Accuity Customers - Save on 2020 Nacha Operating Rules & Guidelines Products
Use the Special Accuity Code and receive discounted pricing
Accuity Customers
According to Nacha's President and CEO, Jane Larimer, The ACH Network is thriving and Then Some. Financial institutions need to be informed about the evolving payments industry and make sure their organizations and their clients are in compliance with the Nacha Operating Rules. To assist with this need, Nacha is offering member pricing to all Accuity customers. No matter what format you choose, use the discount code ACCMRP to save $40 on nonmember pricing.
Why You and Your Customers Need to Have the 2020 Rules
All Network participants benefit from the annual refresh of the Nacha Operating Guidelines. Network participants will need to be aware of Rules changes that expand Same Day ACH capabilities and differentiate unauthorized return reasons. Being prepared and understanding your rights and obligations, you can apply sound business practices to your organization.
Although various formats of the Nacha Operating Rules & Guidelines are available for purchase (Print, Online Resource and Digital Access), the printed version of the Rules governs in the event of a discrepancy or inconsistency. 
Stay ahead on regulations and compliance. Or prepare yourself for the ACH or APRP credentials. Purchasing the most recent version of the Nacha Operation Rules & Guidelines is essential to your organization.
Buy the 2020 Nacha Operating Rules & Guidelines today, your way! 
Browse the 2020 Rules products below and select Buy Now to purchase via the Nacha Store. 
Book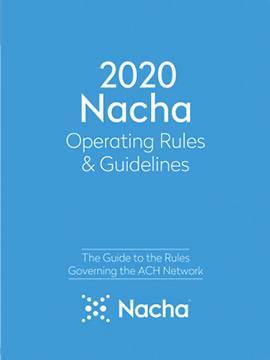 Print
Member: $59.00
Nonmember: $99.00
Website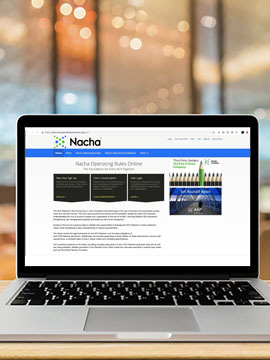 Online Resource
Member: $59.00
Nonmember: $99.00
ebook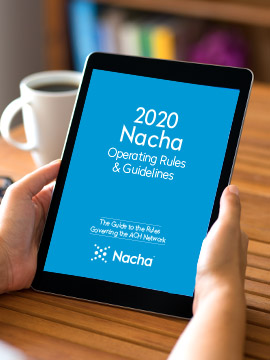 Digital Access
Member: $59.00
Nonmember: $99.00