Accuity Customers - Save on 2021 Nacha Operating Rules & Guidelines Products
Use the Special Accuity Code and receive discounted pricing
Why You and Your Customers Need to Have the Rules
The payments industry continues to evolve. To stay informed on the changes, all Network participants from businesses to customers benefit from the annual refresh of the Nacha Operating Guidelines. Recent Rule amendments went into effect in 2021 including the expansion of Same Day ACH, supplementing security and making transactions easier with meaningful modernization. Understand your rights and obligations so you can apply sound business practices to your organization.
To assist with this need, Nacha is offering member pricing to all Accuity customers. No matter what format you choose, use the discount code ACCMRP to save $34 on nonmember pricing. For the best user experience, please log in before beginning your product purchases.
Although various formats of the Nacha Operating Rules & Guidelines are available for purchase, the printed version of the Rules governs in the event of a discrepancy or inconsistency.
If you want to stay ahead on regulations and compliance, or if you are studying for the AAP or APRP exams, complement your goal with this valuable resource.
Check out recent improvements to provide you with a better shopping experience.
Discover featured products for your home office.
Or visit the Nacha Store and scroll down to discover more convenient electronic publication resources you can access while working remotely.
More ACH Network Resources
---
Buy the 2021 Rules products your way! 
Buy individual product
Browse the 2021 Rules product formats below and select Buy Now to purchase from the Nacha Store. The Nacha Operating Rules & Guidelines can also be purchased through your Payments Association or Amazon.com.
Website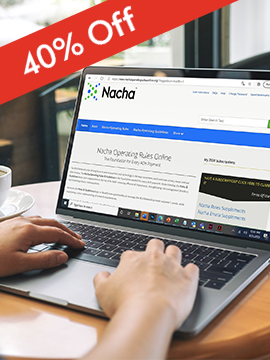 2021 Nacha Operating Rules & Guidelines Online Resource
Member: $39.00
Nonmember: $59.40
ITEM CODE: 405-21OL
ebook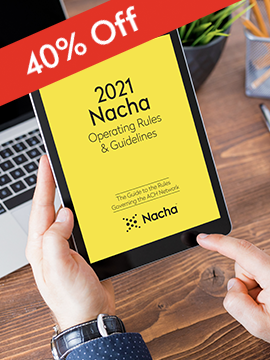 2021 Nacha Operating Rules & Guidelines via App
Member: $39.00
Nonmember: $59.40
ITEM CODE: 405-21DA
Book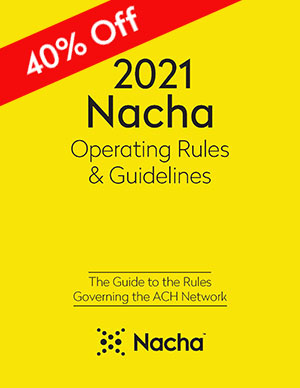 2021 Nacha Operating Rules & Guidelines Print
Member: $39.00
Nonmember: $59.40
ITEM CODE: 405-21
---
Purchase Rules Product Bundles and Save 10%
Diversify your ways to access the 2021 Rules through product bundles. See More Bundles
yes