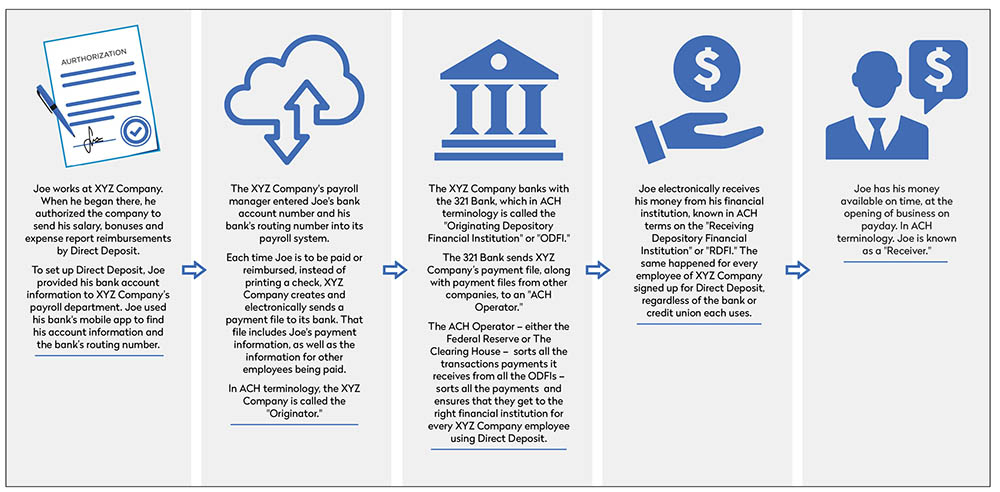 Direct Deposit
Direct Deposit puts consumers in control of their finances and allows them to access their pay quickly. Direct Deposit is fast and reliable, and it's the way 96% of American workers get paid.
In addition to payroll, Direct Deposit can be used to receive:
Travel and other employee expense reimbursements
Bonuses and commissions
Pension/401(k) disbursements
Annuities
Dividend and interest payments
Social Security and other government payments
Tax and other refunds
Watch Video Download Handout More at DirectDeposit.org 
Split Deposit
Used in conjunction with Direct Deposit, Split Deposit lets consumers direct a fixed amount or percentage of their pay into a savings or investment account for each pay period, helping consumers save "automatically."
Direct Deposit Delivers
Direct Deposit is one of those things that's easy to take for granted. Like clockwork, it delivers employees' salaries each payday, as well as Social Security and veterans benefits. And as far as most people are concerned, it all happens without a second thought. But in these unprecedented times, Direct Deposit has found itself in the forefront. 
Payments Myths
Do you think ACH payments take 3-5 days to process? They don't. That's a myth. Or do you think if payday is on a Friday, you won't get your money until Monday (or later if Monday is a holiday)? That's another myth. Learn more about the realities of ACH payments.