Healthcare and Dental EFT/ACH Claim Payments Continue to Grow
Nacha continues to work diligently with key partners in both the Healthcare and Dental industries. Second quarter 2019 Healthcare EFT transactions via ACH were up 9.4 million over the same quarter in 2018, which is a 12.8% increase. Significant progress has been made over the past several years as Nacha works closely with CAQH, HHS, the American Dental Association and others to improve the payments flow for B2B healthcare payments, and to address pain points experienced by healthcare and dental providers.
While no quarterly information is currently tracked for dental EFT payments, the usage of ACH has grown 100% over the past 4 years* (2015-2018), but EFT/ACH is still only 12% of all dental B2B claim payments.
Nacha recently participated in the American Dental Association's (ADA) Administrative Efficiencies Summit in Chicago. Over 40 participants that included dental plans, dental management software companies, dental plan associations, dentists, and financial institutions were in attendance.
The meeting had five focal points:
Patient eligibility and benefits verification.
Coordination of benefits.
Electronic funds transfer and electronic remittance advice.
Claims and attachments.
Dentist credentialing.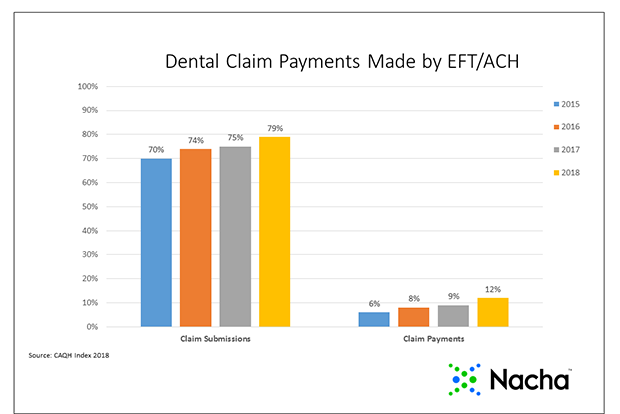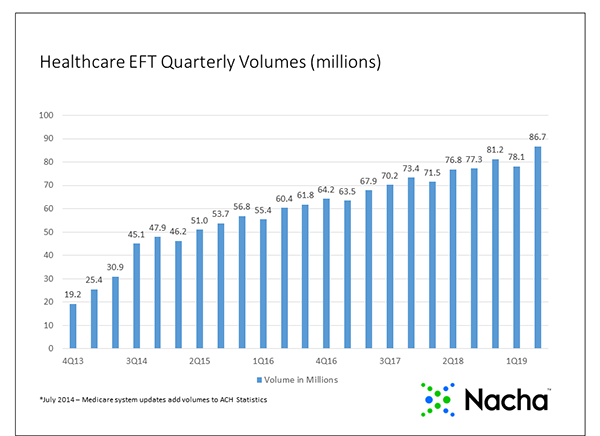 As you can see there is a lot of work being done to improve the dental experience, and payments (EFT) is one of them. For more information on the work we have done in the Dental space, please read these:
Our article for Dental Economics – Electronic Claim Payments
Why Financial Institutions Should Help Dentists Go Electronic on our website
We will continue to keep our membership up to date on the progress of EFT in the dental industry.
*CAQH Index - 2018