Nacha Announces AeroPay Express as a Preferred Partner for B2B Electronic Payment Enablement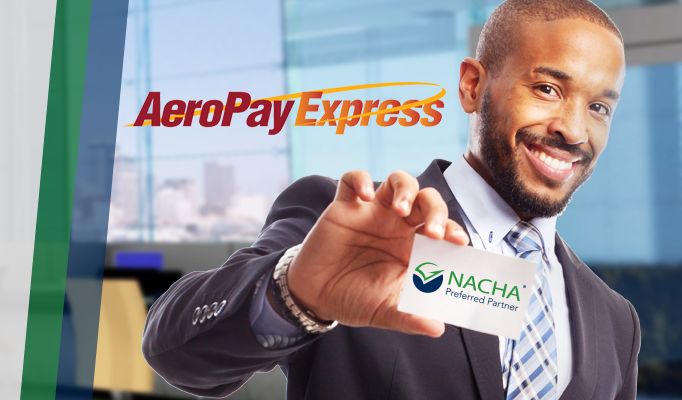 HERNDON, Va., Sept. 12, 2018 – Nacha announces AeroPay Express as a Preferred Partner for B2B Electronic Payment Enablement. Nacha Preferred Partners are a select group of innovators that contribute to Nacha's strategic efforts in support of the payments ecosystem at large by removing friction, increasing ease, cash flow accessibility and efficiency, as well as supporting sound risk management and security for ACH payments. AeroPay Express was selected as a Preferred Partner because of its concentration of products for financial institutions and businesses that support the use and increased adoption of electronic payment options for business-to-business (B2B) transactions. 
"Compared to paper options, electronic payments are a safer, more efficient and cost effective way to make and receive payments, particularly in a B2B environment," said Jane Larimer, chief operating officer of Nacha. "B2B payments today cause many significant challenges for AP/AR departments. Expanding accessibility to electronic payments is often times the first step in solving the B2B payments challenge, and AeroPay Express does just that with its products for financial institutions and businesses. This access can help businesses expand reach, reduce costs, accelerate cash flow, and increase efficiencies." 
AeroPay Express offers products and programs for businesses, and for financial institutions that maintain business customers. Its electronic payment enablement and QuickPay products give businesses the ability to pay any business quickly – regardless of network – for goods or services in a safe, fast and economic manner. Its turnkey program for financial institutions enables partner banks and credit unions to support the B2B QuickPay payment needs of their business customers through AP credit lines. 
"Businesses are in need of easy tools to help them better manage their finances, improve cash flow and streamline AP operations," said Stephen Troy, CEO and founder of AeroPay Express. "Paper-based payment tools and options like checks can slow down processes and strain a businesses' cash flow and bottom line. Our products can help improve cash flow, reduce data entry and eliminate the reliance on checks, paving the way for efficiency and profit through electronic payments. We are excited to be part of the Nacha Preferred Partner program and help support greater electronic payment adoption by the business sector." 
AeroPay Express, as the Preferred Partner for B2B Electronic Payment Enablement, joins a growing list of Nacha Preferred Partners working to better support the payments ecosystem including: 
•    Alacriti for Electronic Bill Presentment and Payments;
•    ACI for Enabling Innovation in Payments; 
•    Bottomline Technologies for B2B Payments; 
•    Finastra for Enabling Innovation in Payments;
•    First Data for Digital Commerce ACH Enablement;
•    Fiserv for Payments and Financial Services;
•    High Radius for Cash Application Automation;
•    MACH1 for ACH Enablement of Micro Businesses;
•    Treasury Software for ACH Enablement and Integration; and
•    Volante for Accelerated Payments Integration and Processing.
To learn more about AeroPay Express and Nacha's Preferred Partner Program, visit www.nacha.org/Preferred-Partner. 
About Nacha
Nacha is a nonprofit organization that convenes hundreds of diverse organizations to enhance and enable electronic payments and financial data exchange within the U.S. and across geographies. Through development of rules, standards, governance, education, advocacy, and in support of innovation, Nacha's efforts benefit the providers and users of those systems. Nacha leads groups focused on API standardization, authors the Quest Operating Rules for EBT, and is the steward of the ACH Network, a payment system that universally connects all U.S. bank accounts and facilitates the movement of money and information. In 2017, there was a total of nearly 26 billion ACH transactions. Of these, 21.5 billion ACH payments valued at $47 trillion moved across the ACH Network, and more than 4 billion were on-us transactions within financial institutions. Visit nacha.org for more information, and connect with us on LinkedIn, Twitter, Facebook and YouTube.
AeroPay Express
AeroPay Express is an online-based financial technology platform focused on revolutionizing the business-to-business supply chain financing space, offering account payable credit lines from $50 thousand to $5 million with the convenience of transacting with any business, anytime and anywhere in the world. The Company's "Virtual Procurement Card" ("P-Card") functions like a credit card but provides buyers significant flexibility, including extended credit terms, rebates, lower cost to vendors, free accounts payable management software, fraud protection and larger credit limits, among others.
For further information please visit: www.aeropayexpress.com.