Nacha Makes the Case with Professional Fundraisers for Recurring Donations by ACH
Why would Nacha have booths at a conference on nonprofit giving and a conference of public TV and radio professionals? Because attendees are exactly the folks who could benefit from using ACH.
Expanding the ACH Network is one of Nacha's core missions, which made the two conferences ideal places to be last month.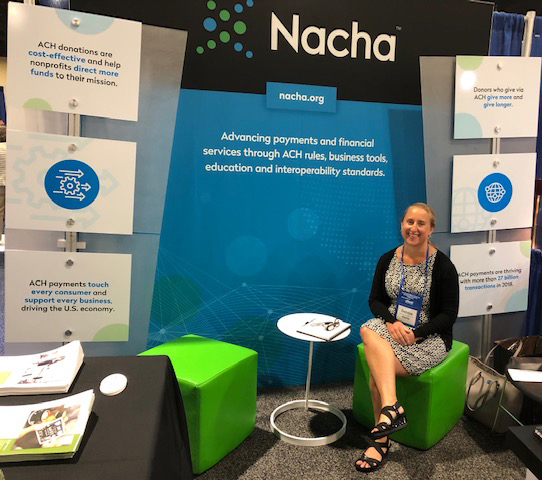 Brad Smith, senior director, industry verticals, and Debbie Barr, senior director, ACH Network rules, were in the Nacha booth at the 2019 Bridge to Integrated Marketing & Fundraising Conference. Better known simply as Bridge, the conference held just outside Washington, D.C., brought together some 2,500 professionals, including a group Nacha is particularly interested in: fundraisers who handle monthly giving. 
"The Bridge conference gives us a great opportunity to explain the benefits of using ACH to a market well-suited for it," said Smith. "We are also able to meet nonprofits that are already benefiting from ACH for their recurring donations." 

On the same week as Bridge, more than 1,000 public media leaders and revenue-generating professionals were in Dallas for the Public Media Development and Marketing Conference, or PMDMC. Joining them were Nacha's Peter Hohenstein, senior director, ACH Network administration, and Cari Conahan, senior director, ACH Network rules and enforcement. 
One conference attendee made it there with Nacha's help. Stephanie Lewis, an account executive with St. Louis area public radio station WSIE-FM, won the first Nacha PRADO Scholarship, given in connection with the Public Radio Association of Development Officers. Nacha sponsored this scholarship to help a newer public station staffer attend PMDMC. Lewis said the conference was a wonderful experience. 
"I am so thankful for this opportunity, and I've learned so much. I've also benefited from the networking opportunities," said Lewis. 
(Read more about Stephanie Lewis winning the Nacha PRADO Scholarship)
Hohenstein joined representatives of three stations on a panel entitled, "Keep Growing Revenue: Tactics to Overcome the Sustainer Growth Plateau." More than 200 people attended the session, which focused on ways for sustaining donor programs to maintain growth. Hohenstein talked about Nacha's Nonprofit Toolkit, which has everything needed for public TV and radio stations—as well as any other nonprofit—to start or enhance its ACH donation program.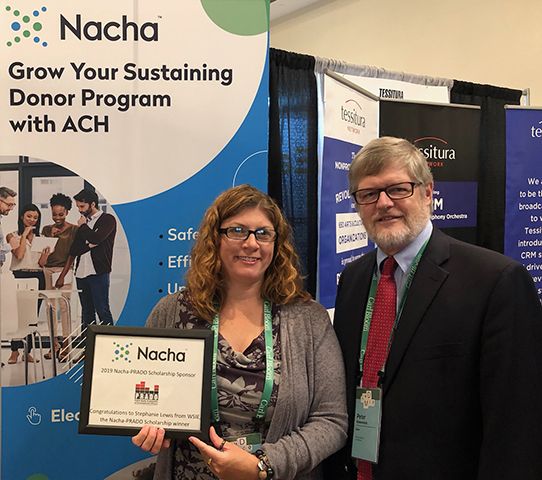 "There was a great response to the Toolkit," said Hohenstein. "It was very popular among attendees." 
While the conferences helped get the word out about recurring donations by ACH, there's more that you can do to help.
"Nacha members should work with their nonprofits clients on implementing ACH for recurring donations," said Smith. "Explain to them the benefits of ACH, from increased donor retention to lower costs. It's something every charitable organization should be using."