September 17, 2019
Nacha to Recognize Over 360 New Accredited Payments Risk Professionals During the First-Ever National APRP Recognition Day on Sept. 17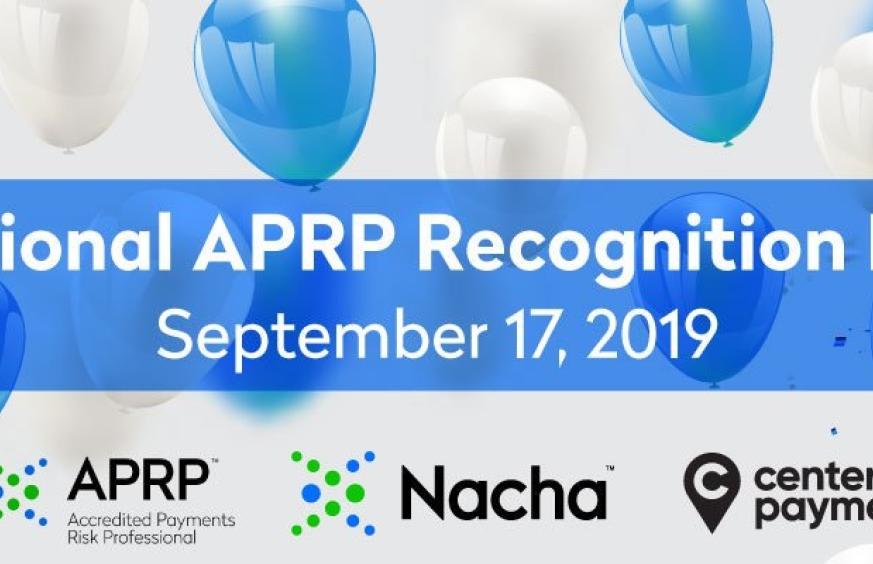 HERNDON, Va., Sept. 17, 2019 – In honor of the first-ever National APRP Recognition Day, which will be commemorated annually on the third Tuesday of September, Nacha will recognize over 360 credentialed Accredited Payments Risk Professionals. The total includes professionals who passed the APRP exam this year, as well as the 2018 inaugural class.
The APRP exam tests for comprehensive risk management knowledge across all payment types, including ACH, check, wire, debit, credit and prepaid cards, and emerging and alternative payments. To become an APRP, individuals must pass an exam, administered by Nacha, that tests their knowledge of subjects including the fundamentals of payments risk management, payments systems, payments risk policy and governance, payments risk management systems and controls, physical and information security, and the regulatory environment.
"It is our honor to congratulate each APRP for passing such a rigorous exam. Earning the credential signifies a professional has comprehensive payments risk management expertise that is needed throughout the industry at financial institutions, fintechs, processors and businesses," said Scott M. Lang, AAP, Chief of Staff at Nacha.  
"The payments ecosystem now has a growing group of credentialed experts who can effectively help manage payments risk for organizations, enhance payments processes, maintain sound payments practices, and ensure compliance with regulations," Lang said.
To commemorate National APRP Recognition Day in Washington, D.C., Nacha and its member Payments Associations will fly an American flag over the U.S. Capitol. 
Also, APRPs receive exclusive registration rates for Smarter Faster Payments 2020 ($1,495 through Feb. 21) and the Payments Institute ($2,195), two of Nacha's premier educational events that also offer continuing education credits.
Registration will open soon for Smarter Faster Payments 2020, which will be held April 19-22 in the Washington, D.C., metro area, and for the Payments Institute, which is scheduled for July 26-29 in Cambridge, Massachusetts.
To learn about the APRP program, visit www.nacha.org/accredited-payments-risk-professional. Those considering the next APRP exam window in July 2020 should contact their PA to learn more about training opportunities to help them prepare for the exam. Visit www.centerforpayments.org. 
About Nacha
Nacha is a nonprofit organization that convenes hundreds of diverse organizations to enhance and enable ACH payments and financial data exchange within the U.S. and across geographies. Through the development of rules, standards, governance, education, advocacy, and in support of innovation, Nacha's efforts benefit all stakeholders. Nacha is the steward of the ACH Network, a payment system that universally connects all U.S. bank accounts and facilitates the movement of money and information. In 2018, there were 27 billion ACH payments, and more than $51 trillion in value moved across the ACH Network. Nacha also leads groups focused on API standardization and B2B payment enablement.