April 24, 2017
Nacha Announces Fiserv as a Preferred Partner for Payments and Financial Services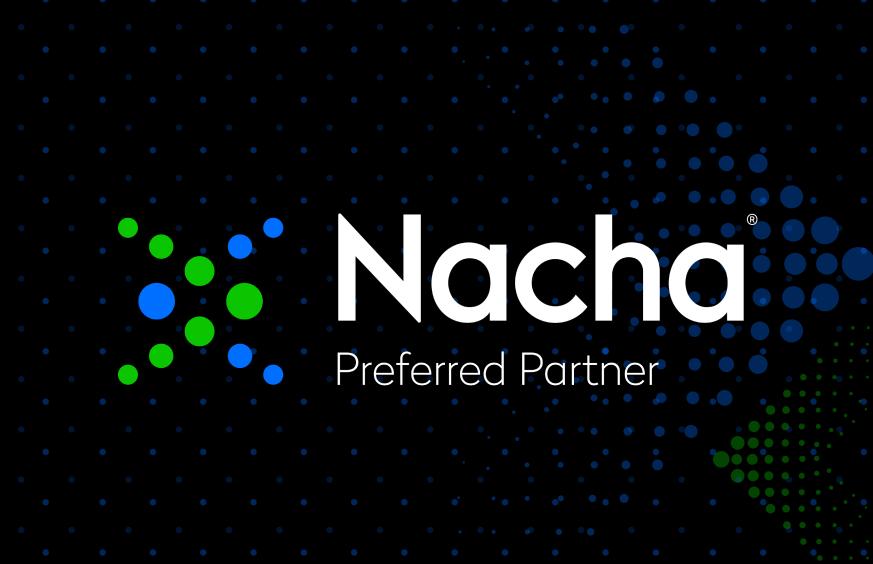 HERNDON, Va., April 24, 2017 – Today, Nacha–The Electronic Payments Association® announced Fiserv as a Preferred Partner for Payments and Financial Services. Nacha Preferred Partners are a select group of providers and innovators that uniquely contribute to Nacha's strategic efforts and the payments ecosystem by removing friction, increasing ease, accessibility and efficiency, or supporting sound risk management and security for ACH payments. Fiserv was selected as a Preferred Partner based on their deep expertise and continued innovation in payments and financial services for financial institutions, businesses and consumers.
 
"We are pleased to introduce Fiserv as our newest Preferred Partner," said Janet O. Estep, president and CEO of Nacha. "The Preferred Partner Program allows us to support the needs of the industry by providing resources and guidance on solutions that facilitate use of electronic payments. Fiserv payments expertise extends across a wide range of payment types. Their understanding of the industry, commitment to faster, secure transactions, and ability to deliver solutions that benefit financial institutions, businesses and consumers, led to our selection."  
 
Fiserv solutions include a range of fully integrated in-house and outsourced payment solutions. For example, PEP+(R), an online, real-time solution for the processing of ACH electronic payments, enables financial institutions to offer same-day ACH settlement as a value-added service. PEP+ processes approximately 52 percent of U.S. ACH transactions, which in 2016 were more than 25.5 billion. Additional payment services offered by Fiserv include person-to-person payments, bill payments, credit and debit card processing and risk management. More than $1.5 trillion moves through Fiserv solutions annually on behalf of 12,000 clients in 80 countries.

"Fiserv helps our clients deliver financial services experiences in step with the way people live and work today," said Pat Korb, president, Financial & Risk Management Solutions, Fiserv. "Through the Nacha Preferred Partner Program, we look forward to supporting streamlined payments practices and advancing quality and efficiency across the industry."

Fiserv, as the Preferred Partner for Payments and Financial Services, joins a growing list of Nacha Preferred Partners working to better support the payments ecosystem.
 
Current Preferred Partners include:
Early Warning for Account Validation Services;
High Radius for Cash Application Automation; and
Treasury Software for ACH Enablement and Integration. 
To learn more about Nacha's Preferred Partner Program, visit nacha.org/Preferred-Partner.
 
About Fiserv
Fiserv, Inc. (NASDAQ: FISV) enables clients worldwide to create and deliver financial services experiences that are in step with the way people live and work today. For more than 30 years, Fiserv has been a trusted leader in financial services technology, helping clients achieve best-in-class results by driving quality and innovation in payments, processing services, risk and compliance, customer and channel management, and insights and optimization. Fiserv is a member of the FORTUNE® 500 and has been named among the FORTUNE Magazine World's Most Admired Companies® for four consecutive years, ranking first in its category for innovation in 2016 and 2017. For more information, visit fiserv.com.
 
Nacha—The Electronic Payments Association
Since 1974, Nacha – The Electronic Payments Association has served as trustee of the ACH Network, managing the development, administration and rules for the payment network that universally connects all financial institutions in the U.S. The Network moves money and information directly from one bank account to another. Through its collaborative, self-governing model, education, and inclusive engagement of ACH Network participants, Nacha facilitates the expansion and diversification of electronic payments, supporting Direct Deposit and Direct Payment via ACH transactions, including ACH credit and debit payments; recurring and one-time payments; government, consumer and business transactions; international payments; and payments plus payment-related information. Through Nacha's expertise and leadership, the ACH Network is now one of the largest, safest, and most reliable systems in the world, creating value and enabling innovation for all participants. Visit nacha.org for more information.