Best in Class Payments Consulting
There is no one better to help with your ACH projects – whether it's expanding your program or creating a new product, Nacha Consulting can help. But we don't stop there. We can help across all payment rails and we work with global financial institutions, start-up fintechs, and other companies changing the face of payments.

Consulting Services
We know payments inside and out. At Nacha Consulting (formerly Elevation Consulting), our team brings expertise from across the payments spectrum to provide you best in class services.
Learn more about our capabilities below or:
Download Brochure Listen to Recent Podcast
---
Our Clients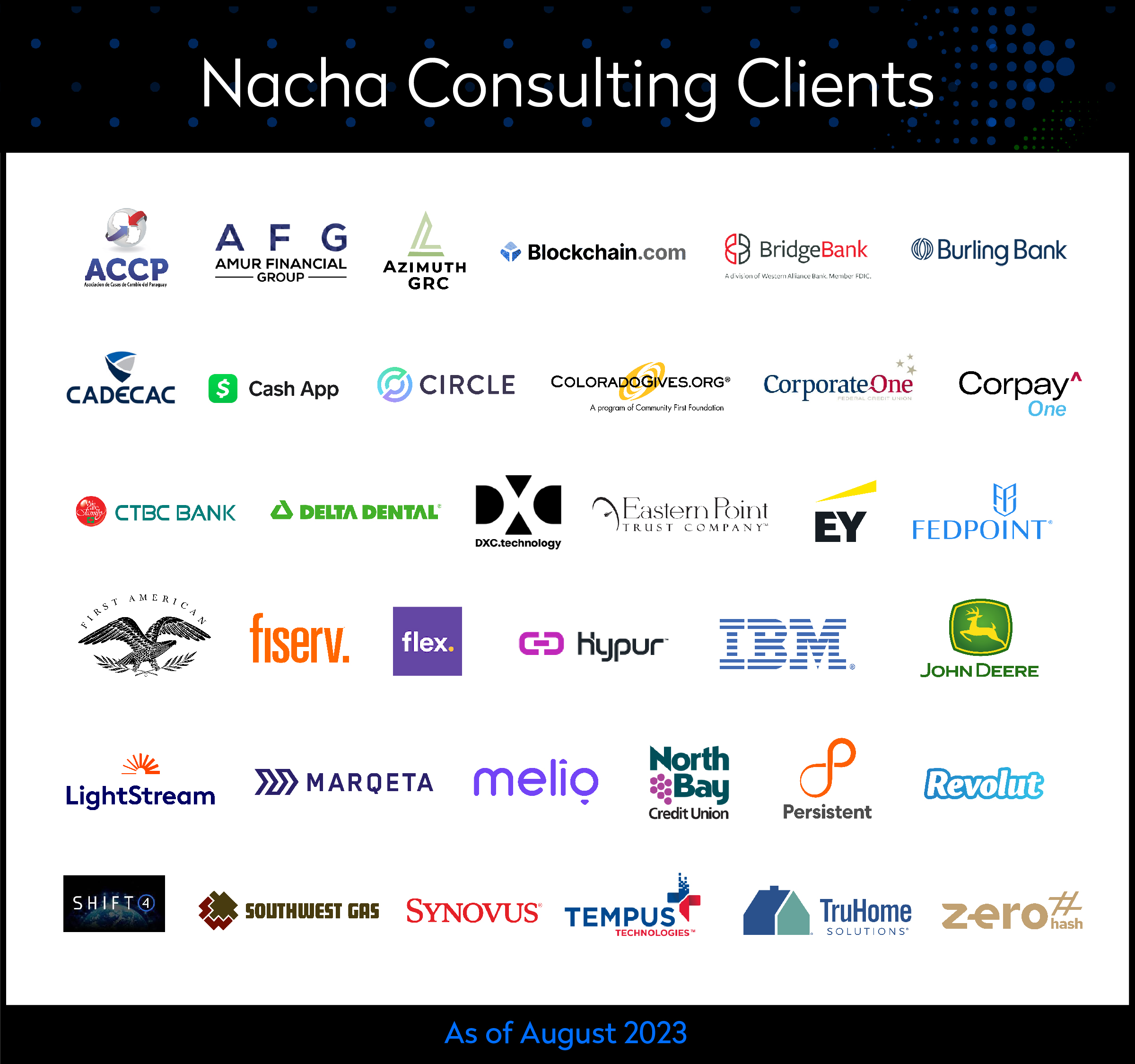 Corporate Treasury Customers in Need of ACH Services
As the ACH Network grows, banks and credit unions often have corporate clients that need support with their ACH operations. These customers often require more operational assistance than financial institutions can offer. 
That's where Nacha Consulting can help.  
The Nacha Consulting Team brings decades of experience in ACH operational compliance, policy and procedures documentation, and ACH risk management to assist corporations as they roll out or expand ACH products and services. Financial institutions can confidently refer their corporate clients to Nacha Consulting knowing they will receive superb guidance from ACH specialists. 
Download the fact sheet for details about Nacha Consulting services and share it directly with your corporate clients. 
Testimonials
DXC Technology
"(Nacha Consulting) brought both depth and breadth in over-arching Payments expertise to a huge global effort, virtually becoming a daily extension of my team. (Nacha Consulting) is, and will remain, a go-to set of resources for a fintech or FI that is embarking on any payments-related products/projects."
M.A.Francis Global Head of Strategy and Product Payments, Treasury and Blockchain
Change the World Fund
"(Nacha Consulting) set us up for success. As creators of a new platform and product in the marketplace, we relied on them to help us identify our unique position within the payments and financial institution landscape. The (Nacha Consulting) team asked all the right questions and helped us navigate those crucial early days. Their extensive experience and knowledge across the board and their leadership in the payment space gave us enormous confidence and trust."
Diane Boyd Co-Founder & CEO
DCDB Group
"(Nacha Consulting) helped us demonstrate the value and power of the ACH Network to Puerto Rican institutions who are now able to lower cost and increase efficiencies."
~ Kyran Culhane, Managing Partner
Traxpay
"We chose (Nacha Consulting) to write the custom rule set for our new B2B platform because no one was better qualified to do so. Period. Trusted stewards of the US ACH Network, (Nacha Consulting) created the national common standard that has helped Traxpay support banks with digitalized B2B business."
Markus Rupprecht Founder & CEO
Previous
Next
The Team
We're called Nacha Consulting, but we're not career consultants. In fact, we prefer the term "industry experts" because that fits us to a tee.
Connect With Us
Want to see more of our work:
News & Case Studies
Learn how we have worked with others and helped them take their payments strategy to the next level. 
Media Inquiry
If you are a member of the media and would like additional information on Nacha Consulting or would like to arrange an interview, please contact Nacha Communications.