Payments Innovation Alliance
Payments Innovation Alliance Annual Report
The Payments Innovation Alliance leads the industry in education and offers critical thought leadership on emerging topics impacting the entire payments industry. The Payments Innovation Alliance 2022 Annual Report summarizes the Alliance's activities and accomplishments, including completing an Executive Briefing Series on Voice Payments, the return to in-person meetings, the road to the new Faster Payments Certification and more. Plus, you can review a listing of the companies and institutions that make the Alliance vibrant and strong.
Please take a moment and read the Annual Report to better understand what we do. If you're not yet a member and want to be part of our efforts, please reach out to us to inquire about joining.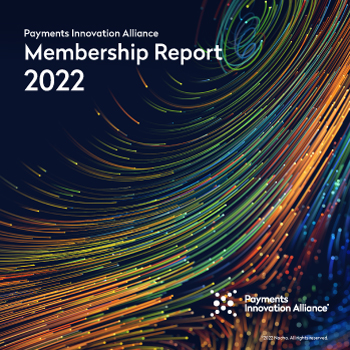 Alliance Voice Payments Series
The Alliance's Conversational Payments and Cybersecurity Response Project Teams recently created a new resource aimed at financial institutions, billers and payments processors.Voice Payments: Guide to Nacha's Operating Rules identifies the most common conversational payments use cases, offers answers to frequently asked questions and assists in determining the Standard Entry Class (SEC) Codes for consumer bill payment use cases using voice-assisted devices or smart speakers for ACH payments. This publication completes the Project Teams' series of conversational payments-focused Executive Briefings. Learn more about the series.
Membership
The Payments Innovation Alliance is a diverse membership organization that seeks to grow and advance payments innovation to better meet the needs of the modern ACH Network and the evolving payments industry worldwide. By organizing content and focus across all payment areas, including emerging payment technologies, electronic billing and presentment, mobile, payment security/risk, check conversion and global payments, the Alliance seeks to grow and advance payments and payments technology to better meet and serve the needs of the evolving industry.
We encourage you to watch the video above to see Alliance members in action and then reach out to us to join. We look forward to welcoming you into the Nacha family!
Project Teams
Through active project teams, task forces and industry groups, Alliance members collaborate to influence existing and emerging payment trends, drive change, remove barriers, and support innovation. Project team members create a variety of resources for the industry including writing industry white papers, developing best practices initiatives, testing proof of concepts and ultimately shaping the future of payments. Would you like to incubate ideas and engage other industry thought leaders? We encourage you to get involved and have your voice heard!
Member Meetings
A key benefit of Alliance membership is the myriad opportunities to meet and collaborate with peers throughout the year. Alliance Meetings are vital for networking, discussing, debating and incubating innovative solutions to help advance domestic and global payments. Our member meetings feature a variety of topics and working sessions over the course of three days and provide numerous opportunities for senior level executives and payments leaders to connect, ask questions and get answers from colleagues who are immersed in the issues on a day-to-day basis. Interested in attending a member meeting? Check out our meeting schedule below.
May 2023 Spring Meeting
May 24-25
Lisbon, Portugal
More details coming soon!
Our Members
The Alliance membership is comprised of almost 200 organizations of all sizes and spans the payments industry spectrum, including large and small Financial Institutions, Payment Innovators, Law Firms, Payments Associations, EFT Networks/Operators, Technology Providers and more! See who our members are and consider joining this esteemed group of professionals in the Alliance.
Leadership Team
The Alliance Advisory Committees are comprised of subject-matter experts who provide overall input and guidance for meeting content as well as help guide strategy and direct Alliance initiatives. Learn more about our 2022-2023 Leadership Team.