Phixius by Nacha: Trusted payment-related information at the speed of business.
What is Phixius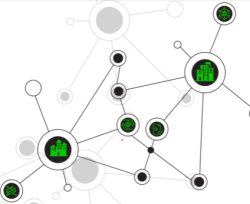 Created and operated by Nacha, Phixius is the trusted peer-to-peer network where businesses can exchange and verify payment-related information securely, instantly, and across multiple payment types.
Connecting payment-related information quickly and safely
Phixius' applications provide for the exchange and verification of payment-related information, risk management, and fraud prevention — all in one place.
ACH Account Validation
Phixius participants can instantly verify routing and account number information before executing payments.
ACH Account  Name Validation
Combines the instant verification of AAV with account name validation.

Electronic Payment Information 
Phixius participants can instantly receive or verify a robust company profile include payment routing and remittance data.

Biller Account Validation 
Phixius participants can instantly verify biller account information for electronic bill payment.
The Phixius Advantage
Phixius' applications harness Nacha's trusted network where participants share payment-related information promptly and securely.
Risk and fraud management
Comply with regulatory requirements, enforce payment terms, and create an auditable record--reducing complexity and risk.
Single source for payment-related data
Eliminate the need for multiple data source contracts by immediately sharing critical payment-related information across various payment types.
Streamlines payments process 
Instantaneously verify routing and account number information and the name on the account before executing payments.
Creates revenue opportunities
Participants can utilize verification to generate new pathways for revenue.
Built and operated by Nacha
When you're on the Phixius Network, your payments will play by the rules.
Talk to a representative about Phixius
Phixius Business Playbook
The Phixius Business Playbook is written for financial institutions considering adoption of an information exchange platform, and to showcase the vast potential of Phixius. By providing strategic and tactical decision-making guidance, the Playbook will serve as an important handbook for bank payments' executives, operations managers, and security experts.
Phixius on YouTube
Learn more about Phixius and how it works in highlighted videos or view the Phixius YouTube Playlist.:
Phixius in the News
Learn more about Phixius in recent news coverage, including: