Phixius
Phixius is a platform for securely exchanging payment-related information utilizing technology and rules within a network of credentialed service providers.
What is Phixius
Phixius is a subscription-based data service platform that facilitates the trusted exchange of vendor information, as well as other pre- and post-payment information. It connects two parties securely, easily, and effectively utilizing a model built on established rules, technology, and core principles of security, privacy, standardization, authentication, trust, and auditability.
Key Milestones
---
Principles of Phixius
As an interoperable payment information exchange platform, Phixius connects parties – such as a buyer and supplier – securely, easily, and effectively, utilizing a model built on established rules, technology, and trust. Enabling point-to-point connections, Phixius facilitates electronic payment through an information exchange platform built upon the following principles: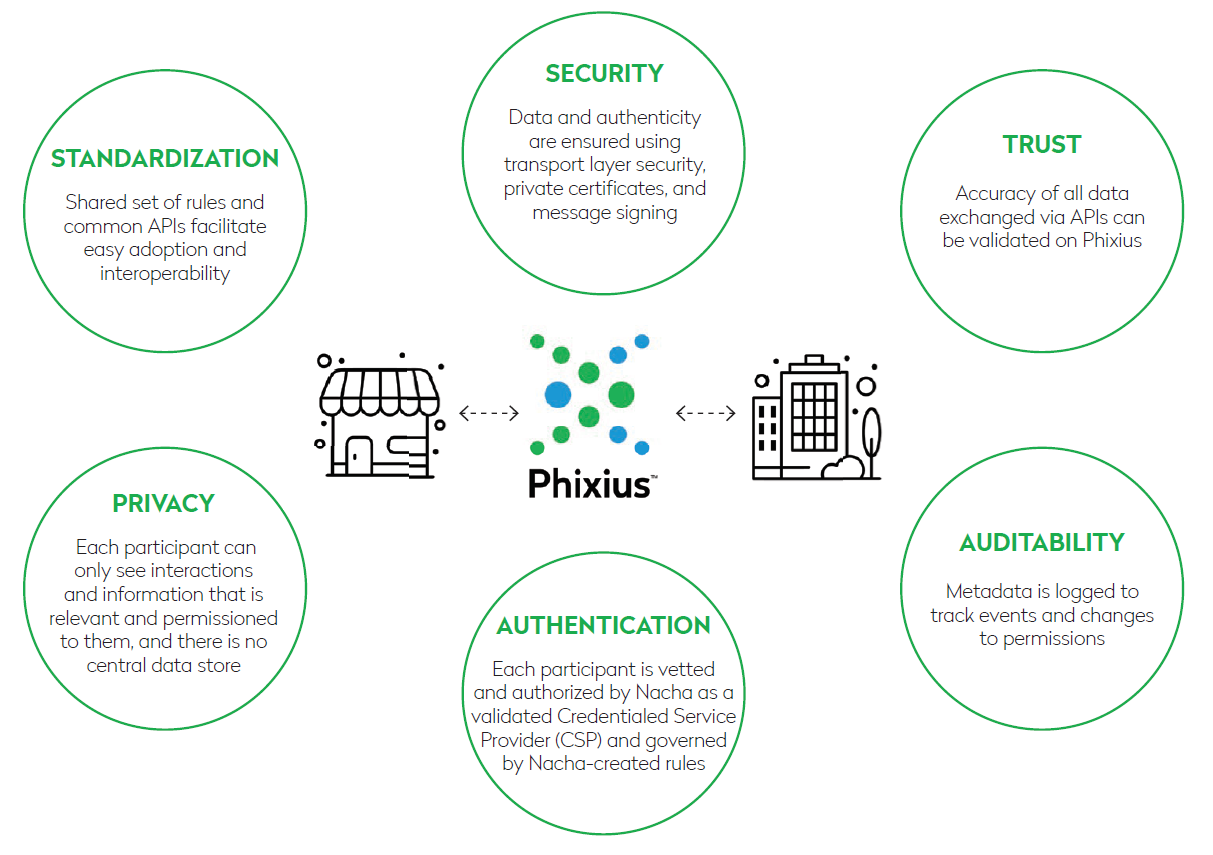 Moving Payments Forward
Nacha's holistic and in-depth understanding of payment challenges has led to Phixius: a platform that solves many of the challenges by facilitating the trusted exchange of payment-related information.
Challenge
Phixius Solution
Lack of Interoperability 
Network of CSPs
An established network of banks and payment institutions on the Phixius
network enables institutions to move away from bilateral agreements and toward interoperability
Insufficient Industry
Standardization
Standardized APIs
Phixius enable CSPs to communicate directly with one another via standardized APIs, frequently conforming to Afinis Interoperability Standards and ISO 20022
Limited Automation 
Streamlined Services
CSPs can leverage Phixius APIs to efficiently
manage the payment information life cycle,
from essential information verification to
customer payment profile management
Increasing Levels of Fraud
Secure Information Exchange
Information is exchanged securely through
vetted CSPs and supporting APIs; this reduces the fraud that is more common with paper checks, account validations, and other
manual processes
Built for Growth
The current world abounds with innovation – with the banking industry and payments landscape no exception to this trend. Companies work to create the next best solution, or simply stay relevant, in a world shifting toward digitization and automation. Phixius was conceived of, and built by, Nacha to aid banks in their innovation strategies. 
Phixius was built to solve the problems of today and tomorrow.
Phixius Business Playbook
Phixius, Nacha's interoperable payment information exchange utility, is a transformative platform for the payments industry that will propel innovation across financial institutions. 
The Phixius Business Playbook is written for financial institutions considering adoption of an information exchange platform, and to showcase the vast potential of Phixius. By providing strategic and tactical decision-making guidance, the Playbook will serve as an important handbook for bank payments' executives, operations managers, and security experts.
FAQs
Learn more about Phixius, how it started, what the name means and how it works. 
Phixius in the News
Learn more about Phixius in recent news coverage, including: 
Afinis APIs
Phixius enables authorized access to "out of network" data sources via standardized APIs -- including those by Afinis.
Contact Us
Want to learn more about Phixius or sign up for a demo? Fill out our contact form and we will get in touch. 
Media Inquiry
If you are a member of the media and would like additional information on Phixius or would like to arrange an interview, please contact Nacha Communications or learn more in our media kit.