December 13, 2022
Phixius by Nacha Processes 2 Millionth Transaction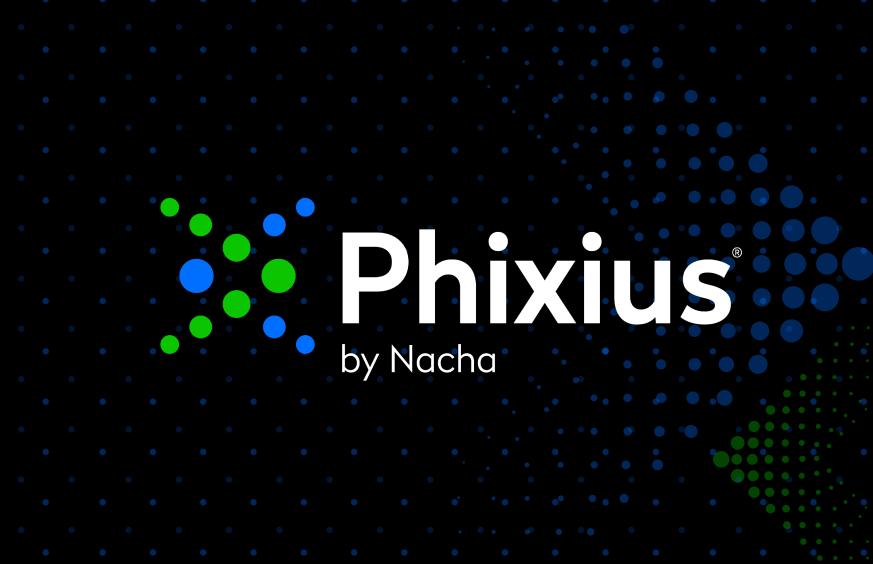 HERNDON, Virginia, Dec.13, 2022 – Nacha's Phixius service announced today that financial institutions and service providers have processed more than 2 million payment-related transactions on the platform this year. Phixius provides for the exchange of payment-related information and can be used for risk management and fraud prevention. To date, Phixius' network reaches more than 1,700 financial institutions and 10,000 businesses.
"The need for account validation continues to drive transactions on the Phixius Network," said George Throckmorton, Managing Director of Strategic Initiatives & Network Development at Nacha, who oversees Phixius. "We continue to hear from a wide variety of organizations that want to join Nacha's payment information exchange network."
"I will say first-hand that we love Phixius," said Corrie Sands, AAP, Senior Manager and Head of ACH Compliance at North American Bancard, one of the largest merchant processors for card payments, annually handling more than $100 billion in payments. "It was a no-brainer for us when choosing the vendor to comply with Nacha's WEB Debit Rule."
Phixius utilizes an Account Validation API developed by Afinis Interoperability Standards, a Nacha membership group of payment industry innovators who collaborate to create standardized versions of commonly needed APIs. The Account Validation API is used to verify routing and account number information before executing payments.
More information about Phixius, including how to schedule a free demo with a Phixius representative, is available at Phixius.org.
About Nacha
Nacha governs the thriving ACH Network, the payment system that drives safe, smart, and fast Direct Deposits and Direct Payments with the capability to reach all U.S. bank and credit union accounts. More than 29 billion ACH Network payments were made in 2021, valued at close to $73 trillion. Through problem-solving and consensus-building among diverse payment industry stakeholders, Nacha advances innovation and interoperability in the payments system. Nacha develops rules and standards, provides industry solutions, and delivers education, accreditation, and advisory services.
About North American Bancard
North American Bancard is re-imagining the payment experience. As a leading payment technology innovator, NAB has a diversified product platform that provides a modern end-to-end infrastructure to enable globally-preferred payment types. NAB's superior solutions deliver seamless payments experiences in mobile, e-commerce, and in-store environments. Serving hundreds of thousands of businesses and with over $100 billion per year in electronic transaction volume, NAB delivers functional, feature-rich and frictionless solutions for the evolving merchant economy. For more information, please visit www.northamericanbancard.com.
 # # #