February 02, 2023
Nacha in 2023: A Lot to Look Forward to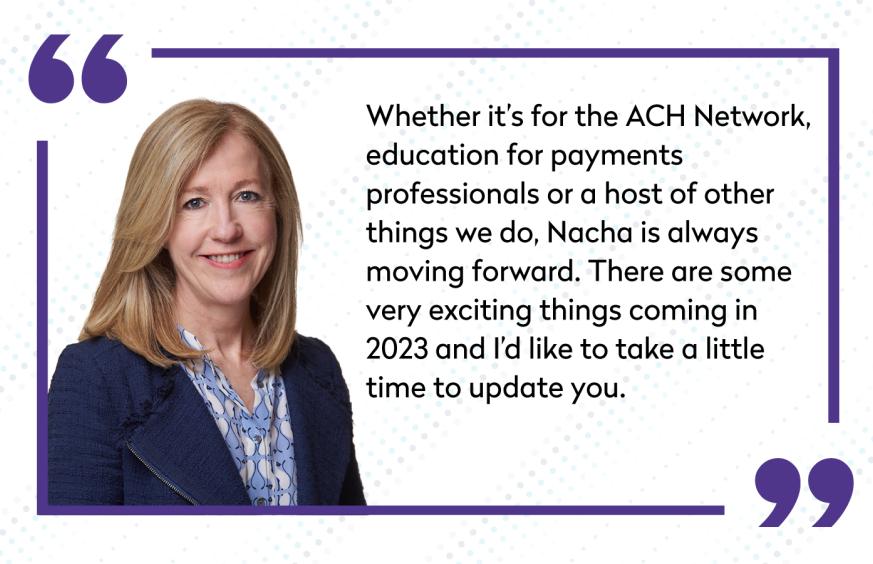 Whether it's for the ACH Network, education for payments professionals or a host of other things we do, Nacha is always moving forward. There are some very exciting things coming in 2023 and I'd like to take a little time to update you.
Same Day ACH is a great place to start because we're building on the incredible momentum from 2022's increase in the per payment limit to $1 million. Corporates were among the most vocal in asking for it, and the volume and value figures show that pent-up demand was real. 
What's next? Nacha will be working with our industry partners on ways to satisfy another request we hear often: longer Same Day ACH hours—particularly to accommodate needs on the West Coast. The acceptance of Same Day ACH is heartening, and we will do all we can to make it a faster payment option for more organizations. 
While Nacha continuously looks at innovation and ways to expand capabilities, risk management is always top of mind. In 2022 we unveiled our new Risk Management Framework with a focus on credit-push fraud, and implementation begins this year. From business email compromise to vendor and payroll impersonation, the cost of these frauds, which can occur with ACH credits, wires, cards, and other instant and digital payments, is measured across the payments system in the billions of dollars.  
Additionally, this July, we will be holding our first Nacha Risk Retreat immediately following TPI On Campus. The focus will be on the types of risk we are seeing today, and it will feature both sessions and tabletop exercises. And the Payments Innovation Alliance is introducing its Consumer Financial Exploitation Project Team with a goal of assisting in the fight against consumer fraud, which the Federal Trade Commission said resulted in nearly $6 billion in losses in 2021.
Phixius, which provides for the exchange of payment-related information, saw more than 2 million payments processed last year. Account validation for ACH payments is a major use case, and in 2023, Nacha is looking to not only grow that aspect of Phixius, but also expand use cases.
On the association side, it was terrific to see so many of you at our first in-person Smarter Faster Payments since the pandemic. We look forward to gathering in Las Vegas in April for the 2023 edition, April 16-19. The excitement is building, and along with the best in payments education, we can promise a fantastic exhibit hall, given the strong interest from our sponsors and exhibitors.
One positive to come out of the pandemic is it cemented Nacha's commitment to both in-person and online events. So, while we hope to see you at Smarter Faster Payments and TPI On Campus, we are offering virtual alternatives in Payments Remote Connect and TPI Home School. 
But you don't have to wait for one of these events to ramp up your education. PaymentsIQ by Nacha is our reimagined online learning hub. More than 120 courses are now available—with more on the way this year—allowing you to study what you want, when you want, at your pace. 
We're also expanding our accreditations. We partnered with the U.S. Faster Payments Council last year to develop the Accredited Faster Payments Professional (AFPP) program, which will give you the opportunity to demonstrate your faster payments prowess. This accreditation is being built on the foundation of the Faster Payments Professional Certificate program that we developed in conjunction with the Payments Associations. The first module was released in 2022 with training beginning in the first quarter. This year, modules two and three will be released. AFPP will join the Accredited ACH Professional (AAP) and Accredited Payments Risk Professional (APRP) programs in offering you the ability to show what you know, as you advance your career. 
Finally, in case that's not enough, we will be debuting a new Nacha website this year with a bold new look. 
We have an exciting 2023 in store at Nacha. What we did in 2022 made us stronger this year. You can bet that what we do in 2023 will make us stronger still next year.