January 13, 2020
Nacha Named One of the Best Places to Work in Virginia for the Second Consecutive Year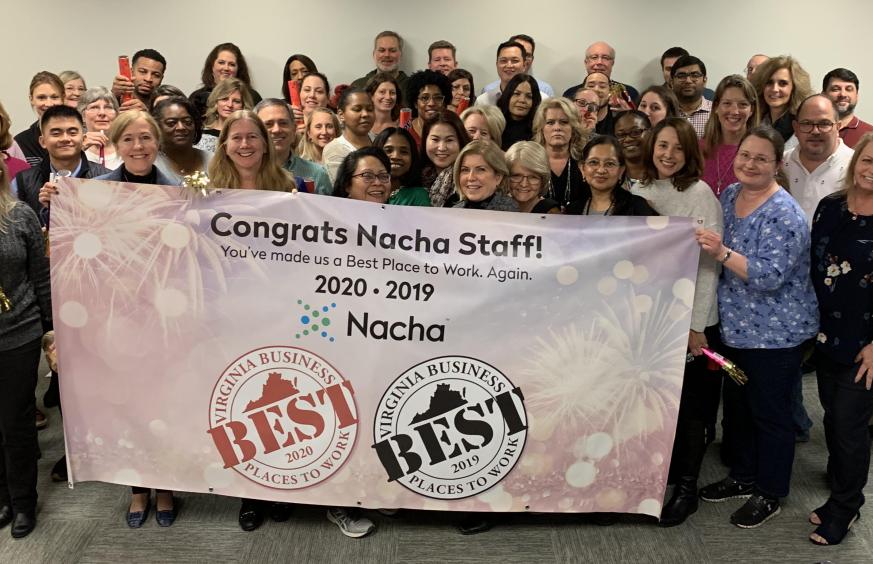 HERNDON, Va., Jan. 13, 2020 – Nacha has been named one of the Best Places to Work in Virginia for a second consecutive year. The annual list was created by Virginia Business Magazine and Best Companies Group. 
This statewide survey and awards program is designed to identify, recognize and honor the best places of employment in Virginia, benefiting the state's economy, workforce and businesses. The 2020 Best Places to Work in Virginia list is made up of 100 companies.
"Nacha is proud to be named one of the Best Places to Work in Virginia again. Our employees are our most valued asset, and promoting a culture of employee engagement and collaboration is part of what defines Nacha as we continue to foster payments interoperability and innovation," said Jane E. Larimer, Nacha President and CEO. 
To be considered for participation, companies had to fulfill the following eligibility requirements:
Be a for-profit, not-for-profit business or government entity
Be a publicly or privately held business
Have a facility in the state of Virginia
Have at least 15 employees working in the state of Virginia 
Be in business a minimum of one year
Companies from across the state entered the two-part survey process to determine the Best Places to Work in Virginia. The first part consisted of evaluating each nominated company's workplace policies, practices, philosophy, systems and demographics. This part of the process was worth approximately 25% of the total evaluation. The second part consisted of an employee survey to measure the employee experience, which was worth approximately 75% of the total evaluation. The combined scores determined the top companies and the final ranking. Best Companies Group managed the overall registration and survey process in Virginia, analyzed the data, and used their expertise to determine the final ranking. 
The final rankings will be announced at an awards luncheon on Jan. 31 at the Boar's Head Inn in Charlottesville, Va. 
For more information on the Best Places to Work in Virginia program, visit www.BestPlacesToWorkVA.com.
About Nacha
Nacha is a nonprofit organization that convenes hundreds of diverse organizations to enhance and enable ACH payments and financial data exchange within the U.S. and across geographies. Through the development of rules, standards, governance, education, advocacy, and in support of innovation, Nacha's efforts benefit all stakeholders. Nacha is the steward of the ACH Network, a payment system that universally connects all U.S. bank accounts and facilitates the movement of money and information. In 2018, there were 27 billion ACH payments, and more than $51 trillion in value moved across the ACH Network. Nacha also leads groups focused on API standardization and B2B payment enablement.