October 28, 2021
Netchex Earns the Distinction of Becoming Nacha Certified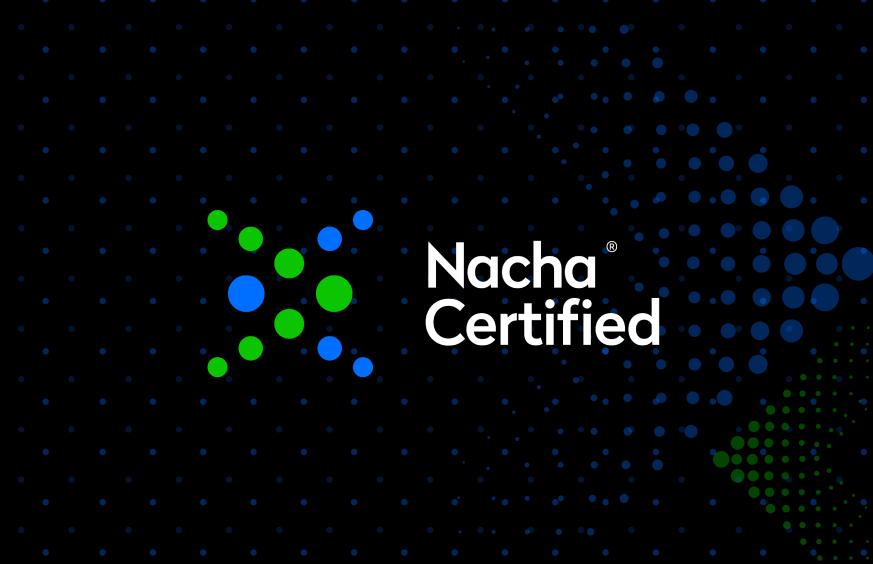 Nacha has approved Nacha Certified status for Netchex, a provider of payroll and human resources services. 
Nacha Certified is a voluntary program that helps Third-Party Senders in the ACH Network to set themselves apart in today's competitive market. Successful Nacha Certified candidates demonstrate effective ACH Rules compliance and risk management, and sound corporate governance. 
"In becoming Nacha Certified, Netchex has shown it is committed to high quality ACH payment processing" said Michael Herd, Nacha Senior Vice President, ACH Network Administration. "We are pleased to welcome Netchex to the elite group of Nacha Certified organizations, as ACH Direct Deposit payments are core to all payroll processing."
"We are excited to become a Nacha certified Third-Party Sender. This achievement is a testament to our commitment to sound best practices in ACH payment processing," said Will Boudreaux, Netchex CEO. "Our clients can feel confident knowing that they are working with an industry leader that meets Nacha's high standards."
Southern Financial Exchange (SFE), a Payments Association headquartered in New Orleans, completed the assessment of Netchex, with final approval coming from Nacha. SFE and six other Payments Associations, all Nacha Direct Members, are part of a cooperative agreement with Nacha to conduct Nacha Certified reviews. SFE is the first to complete such a review. 
"Collaboration within the payments industry is key to providing a safe, secure and efficient ACH Network," said Don Jackson, President and CEO of Southern Financial Exchange. "SFE is delighted to help one of our clients demonstrate their commitment to strong ACH compliance, risk management, and to elevating the safety and quality of the ACH Network. Rapid changes that have occurred in the past few years have created new challenges, but together we can thrive." 
"Strong relationships between Third-Party Senders, their financial institutions, and the Payments Associations are critical to building a strong risk management program on the ACH Network," said Pamela T. Rodriguez, SFE's Senior Vice President, Professional Services. "We are pleased to welcome Netchex to the select group of Nacha Certified Third-Party Senders."
Nacha Certified Third-Party Senders demonstrate to their financial institutions and customers that they meet Nacha standards. Learn more at nachacertified.org. 
About Nacha
Nacha governs the thriving ACH Network, the payment system that drives safe, smart, and fast Direct Deposits and Direct Payments with the capability to reach all U.S. bank and credit union accounts. Nearly 27 billion ACH payments were made in 2020, valued at close to $62 trillion. Through problem-solving and consensus-building among diverse payment industry stakeholders, Nacha advances innovation and interoperability in the payments system. Nacha develops rules and standards, provides industry solutions, and delivers education, accreditation, and advisory services.
About Netchex
Founded in 2003, Netchex has become one of the industry's fastest-growing payroll and HR service providers. Netchex's single-source solution is a cloud-based, end-to-end platform for managing the employee lifecycle from hire to retire. With powerful, yet easy-to-use technology and award-winning customer support, Netchex currently services over 4,000 clients. Headquartered in Covington, LA, Netchex has offices in Atlanta and Dallas with representatives nationwide. Please visit https://netchex.com for more information.
About Southern Financial Exchange
Southern Financial Exchange™ has been educating and empowering financial institutions and their members to be informed, compliant and competitive since 1976. As a payments association and a founding sponsor of the Center for Payments, SFE provides expertise, professional development, and industry leadership with services including education, publications, compliance, risk management, and customized payment consulting services. Our staff includes Accredited ACH Professionals, Accredited Payments Risk Professionals, and National Check Professionals who provides support through ASK SFE™. SFE is also directly engaged in the Nacha rulemaking process, the Accredited ACH Professional (AAP) program and the Accredited Payments Risk Professional (APRP) program. Find us at SFE.org and follow us on LinkedIn.