February 01, 2023
Nacha Announces Board Officers and Directors for 2023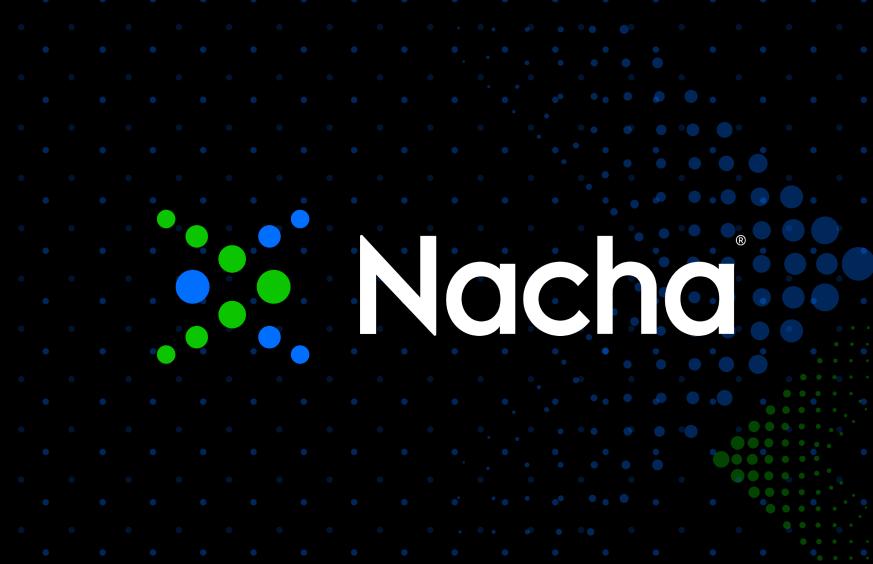 HERNDON, Virginia, Feb. 1, 2023 – Nacha today announced the addition of four new and two re-elected members to its Board of Directors. The Nacha Board provides strategic guidance related to the modern ACH Network and the governance of Nacha as an industry association.
"I am honored to welcome these distinguished payments leaders to our Board of Directors," said Jane Larimer, Nacha President and CEO. "Each member brings a unique background and skill set to the Board, representing a diverse set of organizations. I look forward to working with them to further grow and enhance the modern ACH Network while supporting Nacha's programs for payments professionals."
Additionally, for 2023, the Board of Directors elected Joe W. Hussey, Senior Vice President, Global Treasury Management at Wells Fargo, to serve as Chairperson; Laura J. Listwan, AAP, CTP, Senior Vice President, Head of Commercial Business Transformation, Fifth Third Bank as Vice Chairperson; and John E. Lucas, CCM, Director, Treasury Services Product Management, Treasury & Payment Solutions, Synovus Financial Corporation, as Secretary/Treasurer.
"I am privileged to continue my service with Nacha alongside these proven and dedicated leaders. Their expertise in payments, combined with their passion for Nacha's mission, will significantly contribute to our efforts to grow and enhance the ACH Network while ensuring that it continues to be safe and secure," said Hussey.
For 2023, the Nacha Board consists of executives from large and small banks and credit unions who represent Nacha's Direct Financial Institution Members, Payments Innovation Alliance, and the family of Payments Associations that support and provide a voice for thousands of organizations across the country that use and benefit from the ACH Network.
Nacha Board members that recently began their terms are:
Jennifer Denoo, President & Chief Executive Officer, Great Basin Federal Credit Union.

Tynika Wilson, Senior Vice President, Debit Cards, Navy Federal Credit Union.

Joseph G. Wood, Managing Director, NA Product Head TTS Core Payments and Receivables & Public Sector, Citibank N.A.

Hank Word, President, Open Banking, Evolve Bank & Trust.
The Board members that were re-elected to continue their service are:
Marlene Barkheimer, President & Chief Executive Officer, Farmers State Bank.

Stephen C. Max, Executive Vice President, Head of Operations Services, U.S. Bank.
In addition to Barkheimer and Max, the returning Nacha Board members are:
Sarah T. Billings, Senior Vice President, Head of Payments Product, Operations & Strategy, Treasury Management, PNC Bank.

Lisa S. Coffey, Chief Innovation Officer, Corporate America Credit Union.

Elizabeth A. Cronenweth, AAP, CCM, Senior Vice President, Payments Group Product Manager, UMB Bank, N.A.

Vikram Israni, Chief Financial Officer, Wings Financial Credit Union.

Tina M. Knapp, CPA, Vice President & Director, Payments & Service Support, ESL Federal Credit Union.

AJ McCray, Managing Director, Head of Global Corporate Payments, Bank of America, N.A.

Tim Mills, Executive Vice President, Emerging and Digital Payments, Regions Bank.

Philip C. Picillo, Esq., CTP, Executive Managing Director, Treasury Management Integration, Webster Bank.

Christopher E. Richards, APRP, First Executive Vice President, Chief Banking Services Officer, The Cape Cod Five Cents Savings Bank.

Carl Slabicki, AAP, CTP, Co-Head of Global Payments, Treasury Services, BNY Mellon.
The ACH Operator Advisor Representatives to the Board are:
Jason Carone, AAP, APRP, CTP, Senior Vice President, ACH Product Management, The Clearing House.

Keith Melton, Head of Product & Strategy Management, Federal Reserve Financial Services, Federal Reserve Bank of Atlanta.
About Nacha
Nacha governs the thriving ACH Network, the payment system that drives safe, smart, and fast Direct Deposits and Direct Payments with the capability to reach all U.S. bank and credit union accounts. More than 29 billion ACH Network payments were made in 2021, valued at close to $73 trillion. Through problem-solving and consensus-building among diverse payment industry stakeholders, Nacha advances innovation and interoperability in the payments system. Nacha develops rules and standards, provides industry solutions, and delivers education, accreditation, and advisory services.