January 14, 2021
Nacha Announces Finicity as a Preferred Partner for Account Validation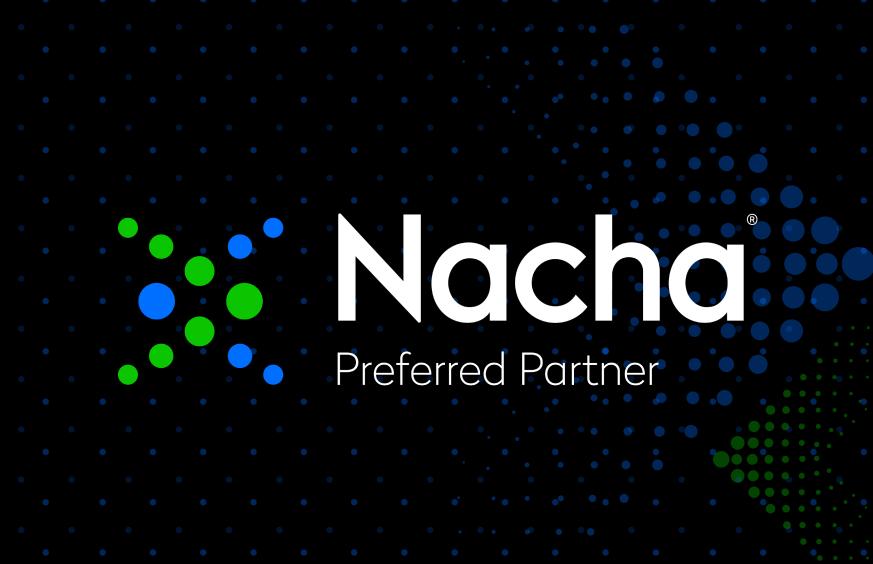 Finicity, a Mastercard company, is now a Nacha Preferred Partner for Account Validation through Finicity Pay™, an integrated solution set of Finicity's open banking platform.
In becoming a Preferred Partner, Finicity joins a select group of innovators that Nacha recognizes for offering products and services that align with Nacha's core strategies to advance the ACH Network. The program is open to technology and solution providers that:
Facilitate efficiencies in the use of ACH information and messaging formats and standards;
Improve ACH risk management and transaction quality that is conducive to ongoing innovation in the ACH Network; and
Conduct business according to the highest standards.
"We welcome Finicity to our Preferred Partner program," said Nacha President and CEO Jane Larimer. "Each partner plays an important role in keeping the ACH Network strong and secure.
"By putting consumers in control of their financial data, Finicity's trusted open banking platform transforms the way people experience money," said Steve Smith, CEO and Co-founder of Finicity. "One of our ultimate goals is to empower consumers by helping them meet their digital payment needs. We are excited to be a Nacha Preferred Partner and work together to advance the ACH Network through innovative payment solutions."
"Finicity verifies account details to help mitigate fraud, maximizes confidence in the accuracy of payment transactions, and transforms the user experience to meet or exceed the high expectations of today's digital consumers," said Lisa Kimball, SVP Product and Strategic Programs. "Our consumer-permissioned data privacy model for digital ACH transactions allows for stronger anti-fraud controls and greater consumer empowerment to help clients achieve commercially reasonable account validation."
Learn more about Nacha's growing community of Preferred Partners and how they can support your payments needs. For more information, visit: www.nacha.org/Preferred-Partner.
About Nacha
Nacha governs the thriving ACH Network, the payment system that drives safe, smart and fast Direct Deposits and Direct Payments with the capability to reach all U.S. bank and credit union accounts. More than 24 billion ACH payments were made in 2019, valued at nearly $56 trillion. Through problem-solving and consensus-building among diverse payment industry stakeholders, Nacha advances innovation and interoperability in the payments system. Nacha develops rules and standards, provides industry solutions, and delivers education, accreditation and advisory services.
About Finicity
Finicity, a Mastercard company, helps individuals, families, and organizations make smarter financial decisions through its safe and secure access to fast, high-quality data. The company provides a proven and trusted open banking platform that puts consumers in control of their financial data, transforming the way we experience money for everything from budgeting and payments to investing and lending. Finicity partners with influential financial institutions and disruptive fintech providers alike to give consumers a leg up in a complicated financial world, helping to improve financial literacy, expanding financial inclusion, and ultimately leading to better financial outcomes. Finicity is headquartered in Salt Lake City, Utah. To learn more or test drive its API, visit www.finicity.com.