April 17, 2023
Same Day ACH Helps Lead ACH Network to Strong First Quarter Growth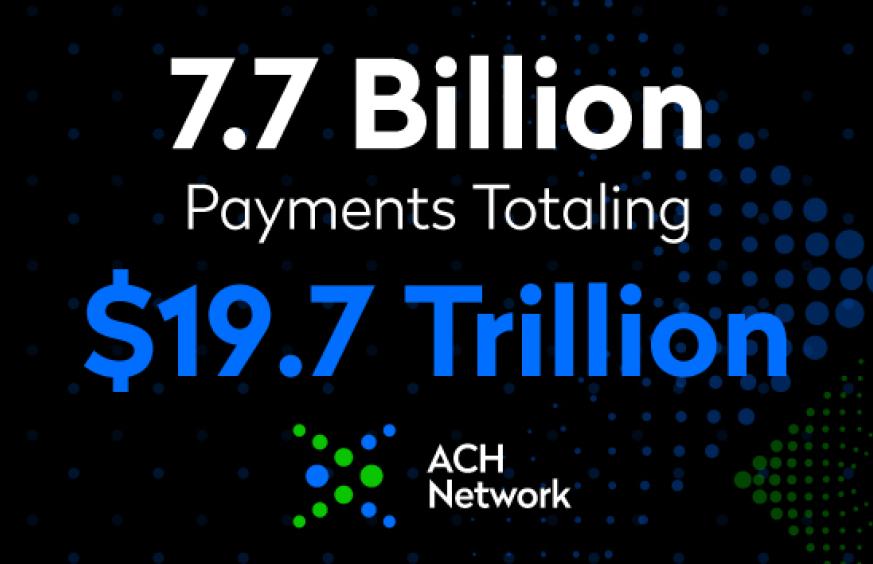 HERNDON, Virginia, April 17, 2023 – The ACH Network began 2023 with solid growth in the first quarter, particularly in Same Day ACH where payment dollar values nearly doubled from a year earlier. 
A total of 7.7 billion payments valued at $19.7 trillion were handled by the ACH Network, each representing an increase of 6.4% over the first quarter of 2022. Of those payments, 186.2 million were made by Same Day ACH, up 20.7%. The value of those same-day payments jumped 94.7% to $565.3 billion. 
"Same Day ACH is a key component of how the modern ACH Network is helping meet the demand for faster payments," said Jane Larimer, Nacha President and CEO. "These results clearly show the payments community's embrace of Same Day ACH. Nacha, along with other ACH Network participants, will continue work to enhance it."
The growth of business-to-business (B2B) payments continued in the first quarter of this year, with nearly 1.6 billion B2B payments made, an increase of 11.4%. Claim payments to healthcare providers increased 5.1% to more than 2.1 billion payments. Nacha has made healthcare claim payments one of its focal points, with particular outreach to dental practices, which lag behind their medical counterparts in receiving claim payments by ACH. Nacha has guides for dental and medical practices to begin receiving ACH claim payments, as well as success stories of dental practices using ACH, at https://www.nacha.org/content/medical-and-dental-practices. 
Direct Deposit also showed strong growth in the first quarter, retrenching after a decline a year earlier with the end of federal economic impact payments. The Direct Deposit volume of 2.1 billion payments is an increase of 5.1%.