ABA Members - Save on 2022 Nacha Operating Rules & Guidelines Products
Use the Special Code for American Banker Association Members and receive discounted pricing
Why You and Your Customers Need to Have the Rules
The payments industry continues to evolve. To stay informed on the changes, all Network participants from businesses to customers benefit from the annual refresh of the Nacha Operating Guidelines. Recently implemented Rule amendments include an increase to the Same Day ACH dollar limit, phase two of supplementing data security requirements, and updates to third-party sender roles and responsibilities. Understand your rights and obligations so you can apply sound business practices to your organization.
To assist with this need, Nacha is offering member pricing to all American Banking Association members. No matter what format you choose, use the discount code ABAMRP to save $20 on nonmember pricing. For the best user experience, please log in before beginning your product purchases.
Although various formats of the Nacha Operating Rules & Guidelines are available for purchase, the printed version of the Rules governs in the event of a discrepancy or inconsistency.
If you want to stay ahead on regulations and compliance, or if you are studying for the AAP or APRP exams, complement your goal with this valuable resource.
Check out recent improvements to provide you with a better shopping experience.
Discover featured products for your home office.
Or visit the Nacha Store and scroll down to discover more convenient electronic publication resources you can access while working remotely.
More ACH Network Resources
---
Buy the 2022 Rules products your way! 
Nacha provides access to the Nacha Operating Rules & Guidelines in three product formats. Don't forget to explore product bundles to save more!
Buy individual product
BUY NOW & SAVE 40%
Browse the 2022 Rules product formats below and select Buy Now to purchase from the Nacha Store. The Nacha Operating Rules & Guidelines can also be purchased through your Payments Association or Amazon.
Book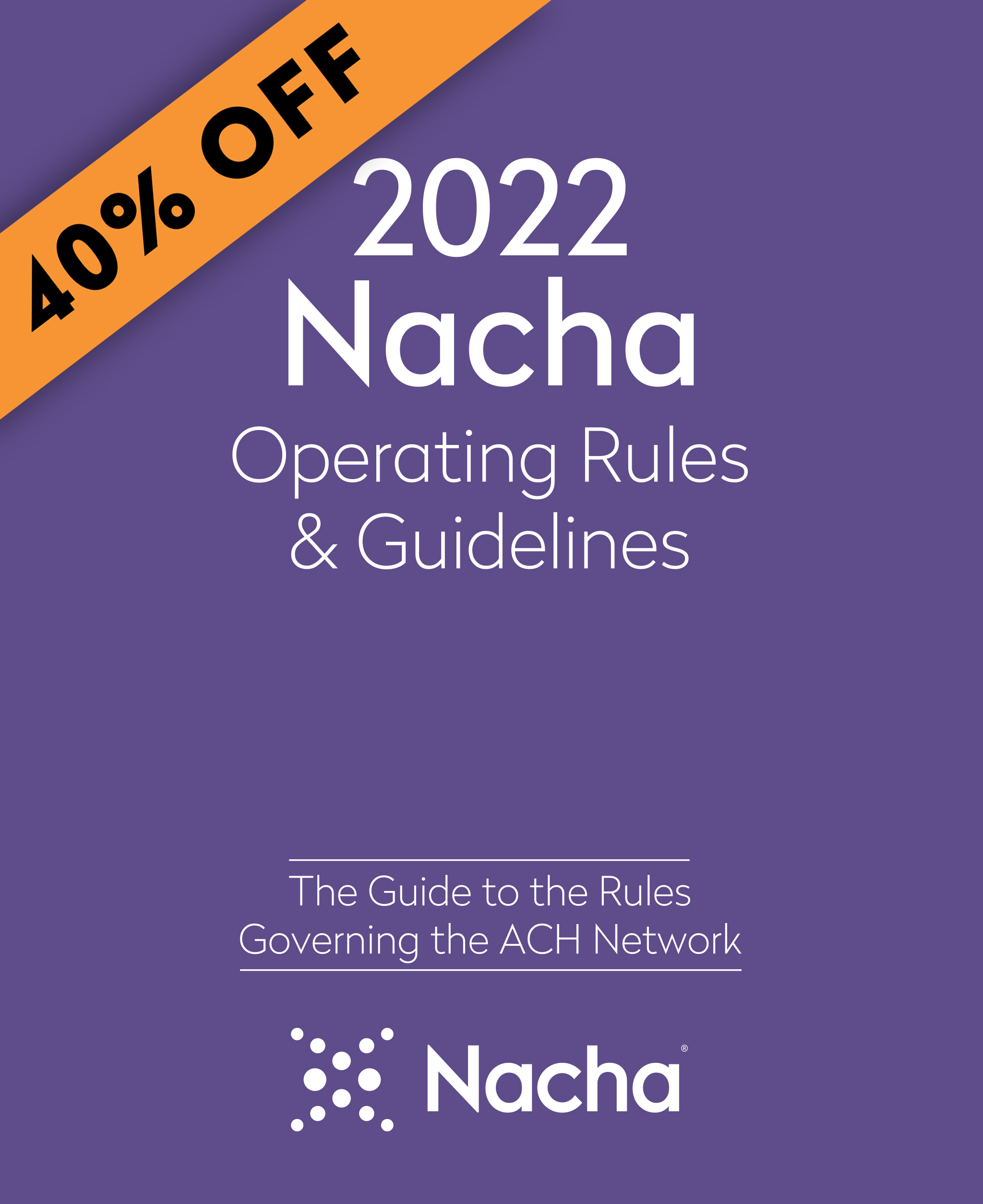 2022 Nacha Operating Rules & Guidelines Print
Member: $39.00
Nonmember: $59.40
ITEM CODE: 406-22
Website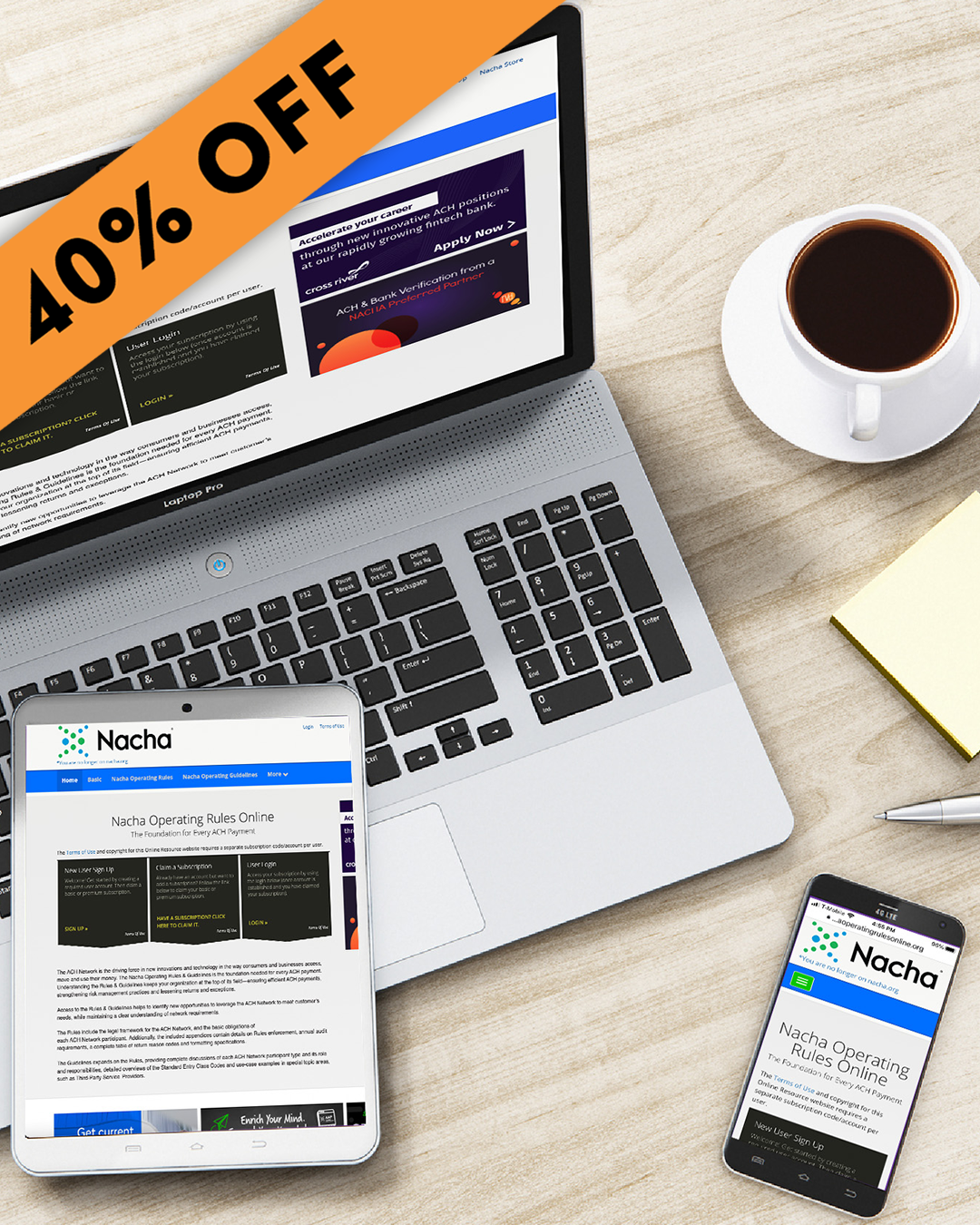 2022 Nacha Operating Rules & Guidelines Online Resource
Member: $39.00
Nonmember: $59.40
ITEM CODE: 406-22OL
ebook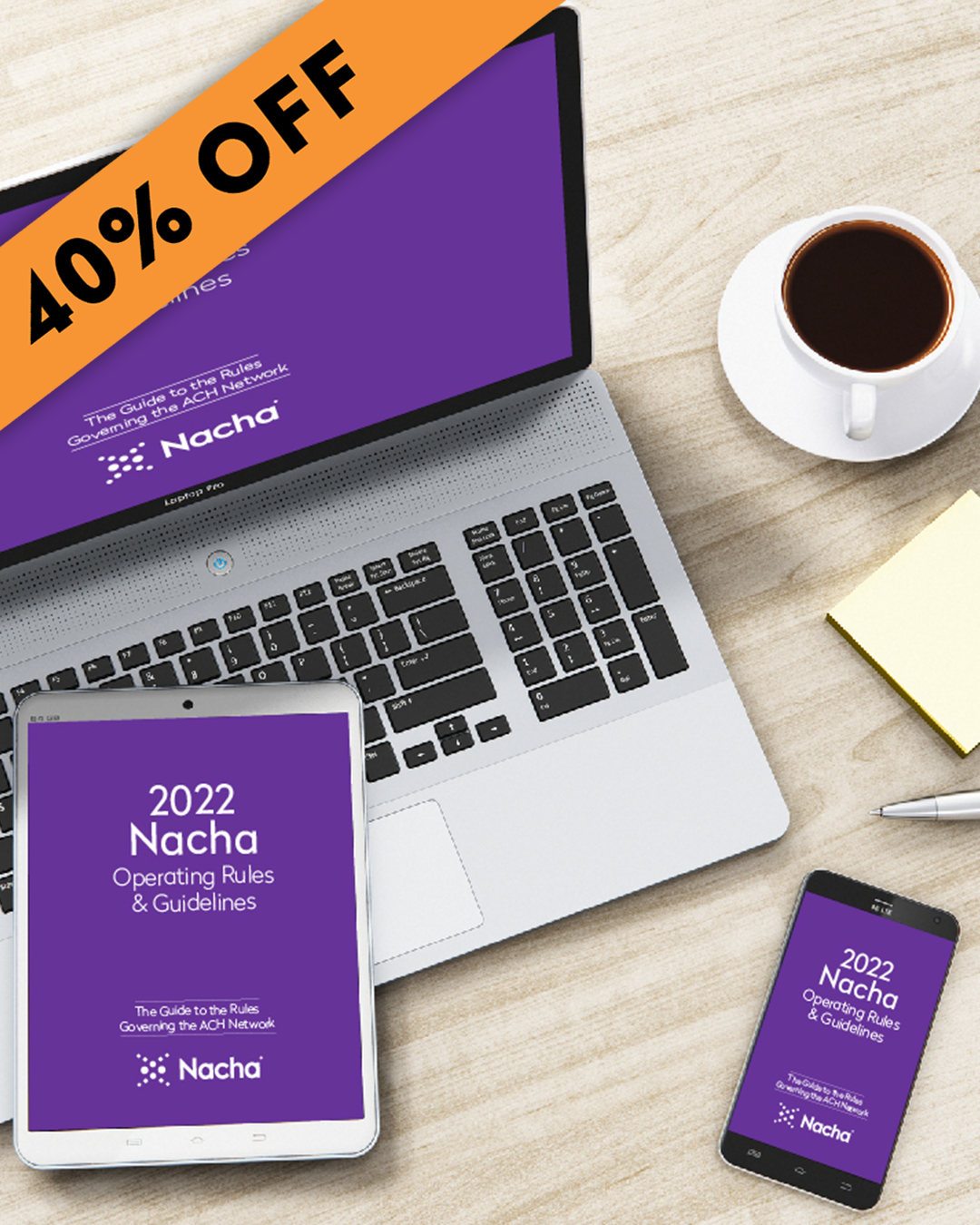 2022 Nacha Operating Rules & Guidelines via App
Member: $39.00
Nonmember: $59.40
ITEM CODE: 406-22DA
yes