ACH Legal & Compliance Summit
Register For This Event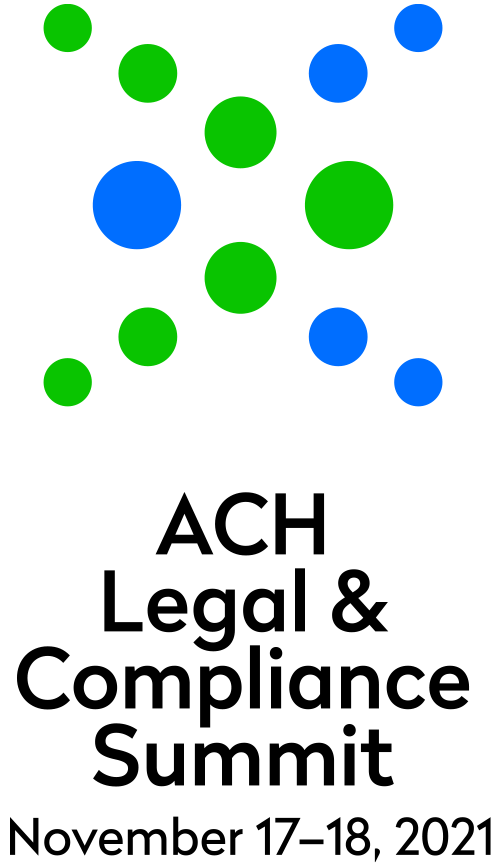 As far back as 1863 with the passage of the National Banking Act and 1913 with the Federal Reserve Act the banking industry has been governed by a series of laws and regulations. Conversely, the Payments Industry has also faced a multitude of rules including Regulation E, the Uniform Commercial Code and a series of private sector rules governing individual payment systems including the ACH Network.
The ACH Network is the backbone of the financial services industry, processing 26.8 billion transactions at a total value of 61.9 trillion dollars in 2020. Central to the success of the Network is understanding the roles and responsibilities of all participants to ensure a safe, secure Network – protected by the Nacha Operating Rules, banking regulations and bi-lateral agreements that define the warranties and obligations of all Network participants.
It is critical the payments legal and compliance communities understand all of these rights and responsibilities so that they are prepared to mediate for their clients and confer with outside or opposing counsel, and to ensure compliance operations run smoothly. This two-day virtual symposium, taught by leading payment industry attorneys, serves to provide attendees with the knowledge necessary to protect their organizations.
Earn Education Credits
All sessions are eligible for up to 12 AAP and APRP Continuing Education Credits.
Approved for up to 12 CTP recertification credits by the Association for Financial Professionals at the rate of one credit for each 50 minutes of attendance.
Approved CLE credit hours pending.