November 14, 2022
The Acceleration of Faster ACH Payments Continues with Late Night ACH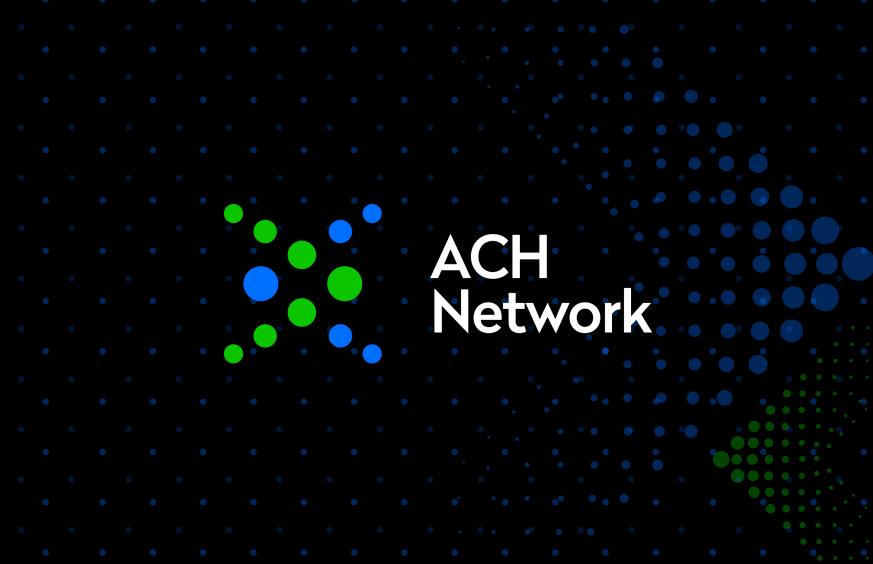 HERNDON, Virginia, Nov 14, 2022 – Following the increase of the Same Day ACH dollar limit to $1 million in March 2022, Nacha and the ACH Operators - the Federal Reserve and The Clearing House - have completed the latest phase in the acceleration of ACH payments with the implementation of "Late Night ACH."  Implemented in mid-September 2022, the Federal Reserve and The Clearing House now deliver late night ACH files to all receiving financial institutions in the ACH Network by 11:30 p.m. Eastern Time on business days, accelerating the delivery of ACH payments that otherwise would be received on the next business morning.
"This service enhancement was implemented in response to ACH industry participant requests," said Michael Herd, Senior Vice President of ACH Network Administration, Nacha. "Receiving institutions can use this accelerated payment information to better reflect customer account balances for pending payment activity. This can be especially impactful on Friday nights in advance of a weekend or even a holiday weekend."
Through the first seven weeks of service, late night file delivery accelerated tens of millions of ACH payments each week. Nacha estimates an average of nearly 10 million ACH payments per day were delivered in these new files on Monday through Thursday. The average volume was significantly larger on Friday nights, with Nacha estimating an average of more than 50 million ACH payments per Friday.
"These additional file deliveries will aid financial institutions in having a more accurate picture of their clients' upcoming ACH activity, allowing them more flexibility in processing future transactions. This is a great step forward, and reinforces the power of the modern ACH network," said Jason Carone, Senior Vice President, ACH/EPN Product Management, The Clearing House.
"It is great to see Nacha and the ACH Operators once again joining together to bring advancements in the ACH Network with the additional late night ACH file delivery, generating efficiencies for network participants and opportunities to meet end user needs," said Tony Stallings, Senior Vice President of Customer Service Operations, Federal Reserve Financial Services.
The Federal Reserve began Monday-Friday late night file delivery on Monday, Sept. 12, 2022.  The Clearing House began Friday late night delivery on Sept. 16, 2022, supplementing its existing Sunday-Thursday late night file delivery.  The result is that all financial institutions in the ACH Network now have these late night files on every business day. 
The new service enhancement provides additional ACH file distributions to receiving institutions but does not change ACH settlement times or receiving institution processing requirements. Receiving institutions at their option may process these files when received to better reflect customer account balances over a full-day cycle or a weekend. For example, a receiving institution could show by Saturday morning pending credits and debits to a customer's account that are received on Friday night, allowing the customer to have better knowledge of what their account balance will be at the opening of business on Monday morning.
The late night files contain all ACH credit and debit payments and returns that the ACH Operators have received since the previous transmission deadline. These files do not include Same Day ACH payments, as the three daily Same Day ACH file distributions are completed before the new late night files are generated. ACH payments in the files settle on the morning of the date indicated in the file.
About Nacha
Nacha governs the thriving ACH Network, the payment system that drives safe, smart, and fast Direct Deposits and Direct Payments with the capability to reach all U.S. bank and credit union accounts. More than 29 billion ACH Network payments were made in 2021, valued at close to $73 trillion. Through problem-solving and consensus-building among diverse payment industry stakeholders, Nacha advances innovation and interoperability in the payments system. Nacha develops rules and standards, provides industry solutions, and delivers education, accreditation, and advisory services.
About Federal Reserve Financial Services
As the U.S. central bank, the Federal Reserve System provides payment services and seeks to foster the stability, integrity and efficiency of the nation's monetary, financial and payment systems. In support of this mission, Federal Reserve Financial Services offer a comprehensive suite of payment and information services to financial institutions, including the FedNowSM Service for instant payments (coming in 2023), FedACH® Services suite for transactions through the ACH Network, the Fedwire® Funds Service for electronic funds transfers, the Fedwire Securities Service for processing securities transfers, Check Services for electronic and paper check processing, FedCash® Services for supplying currency and coin, the National Settlement Service for settlement of interbank obligations, and the FedLine® Solutions that allow direct access to these services. Visit FRBservices.org® for additional information.
About The Clearing House
The Clearing House operates U.S-based payments networks that clear and settle more than $2 trillion each day through wire, ACH, check image, and real-time payments. It is the nation's most experienced payments company, with a long track record of providing secure and reliable systems, payments innovation, and strategic thought leadership to financial institutions. Most recently, The Clearing House has revolutionized U.S. payments infrastructure with the RTP® network, which supports the immediate clearing and settlement of payments, along with the ability to exchange related payment information across the same secure channel. These RTP capabilities enable all financial institutions to offer safer, faster, and smarter digital transaction services for their corporate and retail customers. Learn more at www.theclearinghouse.org.
 # # #