February 22, 2023
ACH Network Moves 30 Billion Payments, $77 Trillion in 2022 Led by Growth in Same Day ACH and B2B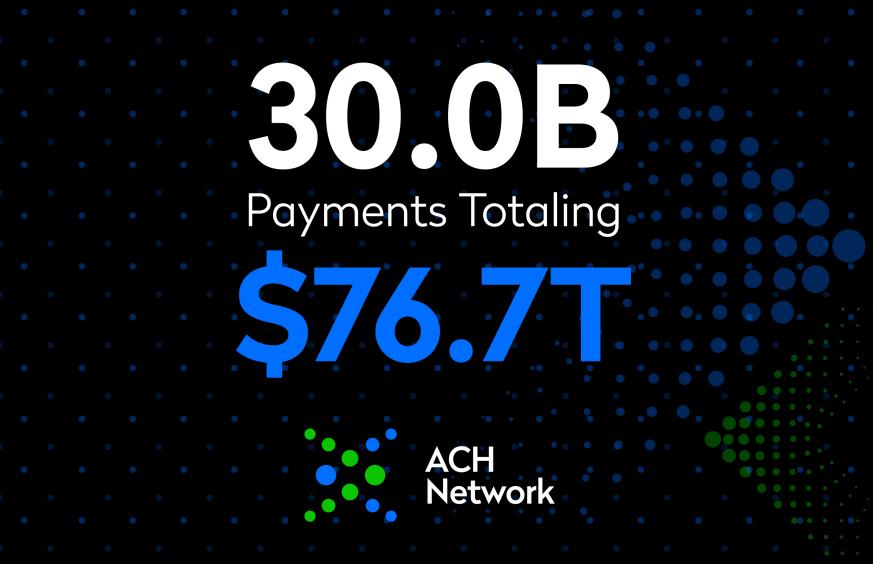 HERNDON, Virginia, Feb. 22, 2023 – The modern ACH Network safely and efficiently processed 30 billion payments valued at $76.7 trillion in 2022, increases of 3% and 5.6% respectively over 2021. 
"2022 marked the tenth consecutive year in which the total value of ACH payments increased by at least $1 trillion. This underscores the fact that the ACH Network is an industrial-strength, modern payment system serving hundreds of millions of consumers, businesses and other organizations," said Jane Larimer, Nacha President and CEO. 
"Same Day ACH is a key component of today's ACH Network," said Larimer, pointing to a 15.5% increase in same-day volume and a value increase of 86.3% for those payments, driven by an increase in the Same Day ACH dollar limit to $1 million. 
"Corporate and other ACH users wanted an increase in the per-payment limit for Same Day ACH, and the ACH Network delivered that last March," said Larimer. 
Also in 2022, the ACH Network implemented Late Night ACH, the distribution of additional files to all receiving institutions by 11:30 p.m. ET, accelerating the delivery of ACH payments that would otherwise be received the next morning.  Nacha estimates that an average of nearly 10 million ACH payments per day are being delivered in these new files on Monday through Thursday; an average of more than 50 million ACH payments are being delivered on Fridays.
Among the other ACH Network highlights in 2022, businesses continued to move away from checks, as shown in the 11.8% year-to-year increase in Business-to-Business (B2B) payments. Adoption of Same Day ACH for B2B payments increased 44% in 2022.
Healthcare claim payments rose 6.1% from 2021, with more than 452 million payments. One of Nacha's focus areas in 2023 is encouraging dental providers to switch to ACH. Dental practices lag behind their medical counterparts in accepting electronic claim payments.
Direct Deposit was 4.1% lower in 2022 with the end of federal pandemic assistance programs and fewer jobless benefit payments.