April 19, 2023
For Molly Bloom of 'Molly's Game,' Persistence Pays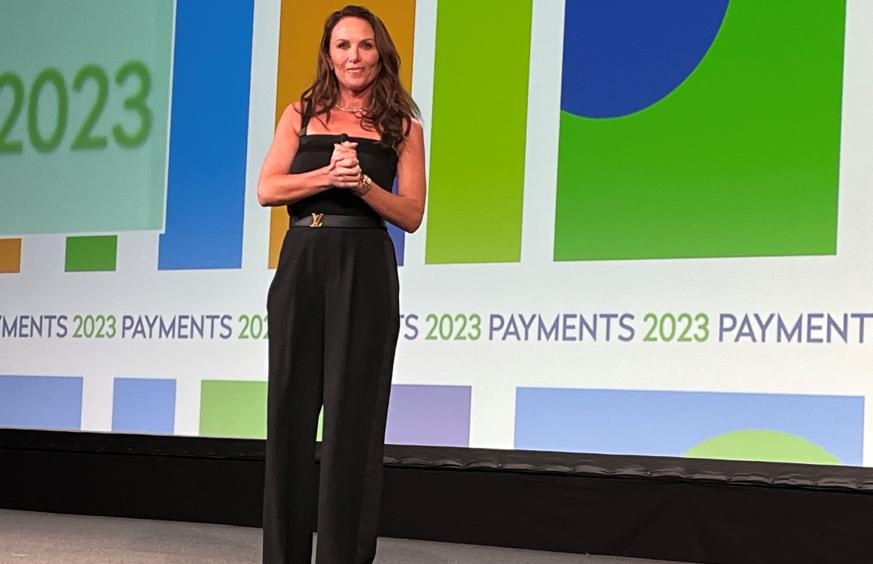 LAS VEGAS—Molly Bloom has seen life's highs and lows. Several times over.
Bloom wrote the memoir "Molly's Game," which inspired the 2017 movie of the same name in which she was portrayed by Jessica Chastain. Bloom shared her story during an April 18 keynote at Smarter Faster Payments 2023.
As a youngster she had a budding skiing career until surgery forced her from the slopes. But she was determined to get back to skiing and did—even making the U.S. Ski Team. When an accident finally ended her ski dreams for good, she went to work at a real estate development company in Los Angeles where her life changed with one seemingly small event. 
"My boss came in the office one day and said, 'I need you to serve drinks at my poker game tonight,'" Bloom recalled. But it wasn't some card game in a garage. 
"Leonardo DiCaprio walked in the room. And then Ben Affleck." Bloom was hooked. She eventually started her own game and got the A-listers to attend by being laser focused on customer experience and making them feel valued. "I ran these games in Los Angeles for six years. I made millions of dollars," she recalled. 
"And then I ran into a really big problem." One of the high rollers made her an offer she couldn't refuse, but she did. "He went behind my back, and he took all my players and my game, and that was that." 
Bloom decided to build "the biggest poker game in the world" in New York, with a $250,000 buy-in. It succeeded, until "something started to change," she said. 
"I started to care more about money, and success, and power," said Bloom. Shady people she once never would have allowed at her table now had seats. Eventually, Bloom said she was threatened by organized crime, assaulted, and saw the federal government take all her money. A few years later she was arrested by investigators she said wanted her to turn informant in exchange for them returning her money. 
"They wanted to know about celebrities and politicians and billionaires," said Bloom, who turned them down. She instead took a plea deal that on a felony gambling charge.
Bloom then reinvented herself again, this time by writing a book and later pitching it as a movie. When studio after studio turned her down, she convinced writer Aaron Sorkin, whose credits include "The West Wing" and "The Social Network," to take on what became his directorial debut in "Molly's Game."
Bloom says today she has a lot of heroes and has learned that "a hero's journey is not one of perfection, it's one of persistence." For her, persistence has paid off. 
"I truly believe that we don't get just one shot," said Bloom. "And that if we're willing to grow, we get as many chances as we're bright enough to take."