Why ACH Has a Place in the Future of Payments
ORLANDO, Fla.—Jane Larimer never tires of telling people "the ACH Network is thriving" and for good reason: "Because it is."
Even as new payment methods emerge, Larimer believes ACH will have a place at the table.
"There's room and opportunity for all payments," Larimer, Nacha's chief operating officer, told a Smarter. Faster. Payments 2019 session on the future of the ACH Network. 
"I think there is a storyline out there that this is a zero-sum game—if you add 'this' then 'this' will be taken away. We saw with cash and checks that isn't the way," said Larimer, adding that there's no question that ACH will "continue to grow."
Larimer stressed the need to talk to customers, clients, and even family members to learn what works for them, and then develop "a portfolio of offerings" to meet customers' needs. 
"Part of it is taking a deep breath, standing back for a minute, and saying, 'I need to have a good understanding of everything that's out there to make investments in the future,'" said Larimer. 
"Same Day ACH, with its incremental change, starts working toward that future where you're having money coming in, and you're processing payments 24/7/365."
Enhancements are coming to Same Day ACH, including a higher dollar limit and sooner funds availability. But Larimer said that's far from the only reason why the ACH Network is so vibrant.
"'Set it and forget it' is one of the core strengths of ACH—the debit functionality where I have my mortgage payment paid every month and don't have to think about it," said Larimer. And she noted that in February, "for the first time ever, we processed through the ACH operators 100 million transactions a day. We're talking big scale and huge efficiencies through using the Network."
Roy DeCicco, Managing Director, Treasury Services, at JPMorgan, said the U.S. "will have multiple choices in the future, a lot of them around the ACH rails including Same Day ACH, and a lot of them around faster payment rails."
"It's all about choice," he said. "We've got two vibrant channels that can coexist."
Laura Listwan, Senior Vice President, Head of Commercial Payments Products at Fifth Third Bank, agreed.
"Trying to create a competition between the two would mean that we don't understand the different value propositions. It goes back to what is your customer looking for and which value proposition makes the most sense for them," said Listwan. 
Larimer agreed, noting that ultimately, "customers need to tell us what they want," because "at the end of the day it's going to be their decision about how they want to do things."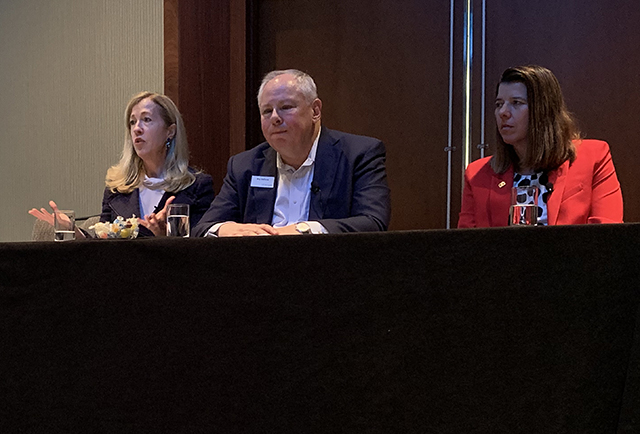 (L-R: Jane Larimer, Roy DeCicco and Laura Listwan discuss the future of the ACH Network during a Smarter. Faster. Payments 2019 session.)