January 18, 2023
Nacha's ACH Legal & Compliance Summit: Learn What You Need from Anywhere You Like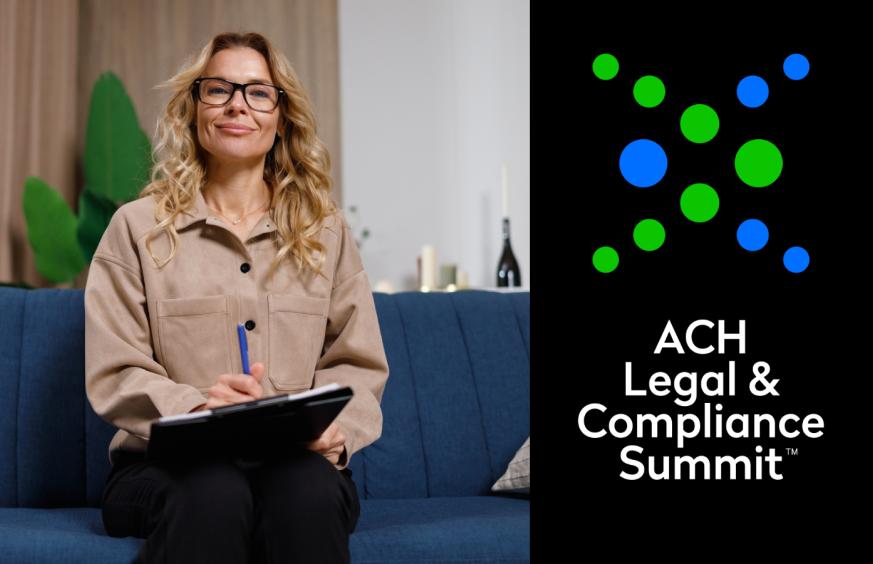 High-quality, relevant CLE from the comfort of your La-Z-Boy Recliner? Or while you work out in your gym? Yes, please! Even better: It's free for lawyers! 
More than 480 lawyers, compliance professionals, and payment executives tuned in to Nacha's second annual ACH Legal & Compliance Summit ("ALCS") Nov. 30-Dec. 1, 2022. They learned from experts—many of whom literally wrote the books on their topics—and got refreshers on basics of payments law and updated on recent developments. Sessions covered laws and regulations relating to Faster Payments, Cryptocurrency, Electronic Signatures in E-Commerce, Regulation in the Time of Artificial Intelligence and Digital Currency, Strategies for Contract Negotiations in Payments, Consumer Protection, and more.  
Sessions appealed to seasoned lawyers and compliance officers and those newer to payments law. Each session began with a top-level topic discussion and then drilled down to very practical advice—drawing from case law, regulations, policy and best practices—on how to ensure that not just lawyers, but colleagues who work in the payments landscape, have the timeliest information for their work. Each session supplied practical resources, including citations to seminal cases that explain courts' important analyses.  
As more and more consumers use new and evolving payment methods—from online apps to cryptocurrency—the sessions addressed how providers can ensure that their customers are fully informed about their decisions, down to where to place checkboxes for customer agreements. This information is practical for lawyers as well as operations professionals who design customer-facing applications and websites.  
This year's Summit was a huge success. One payments attorney wrote to say, "ACLS was one of the best, most valuable seminars I have ever attended."  
Mark your calendar now for the 2023 ALCS Nov. 29-30. It is free for lawyers, and those attending may be eligible for up to CLE 10 credits. But ALCS is not just for attorneys! For a low rate, Compliance, Payments, and Operations professionals can learn best practices for applying legal requirements in their worlds.