August 28, 2020
Alliance Meeting Highlights: August Virtual Pop-Up Meeting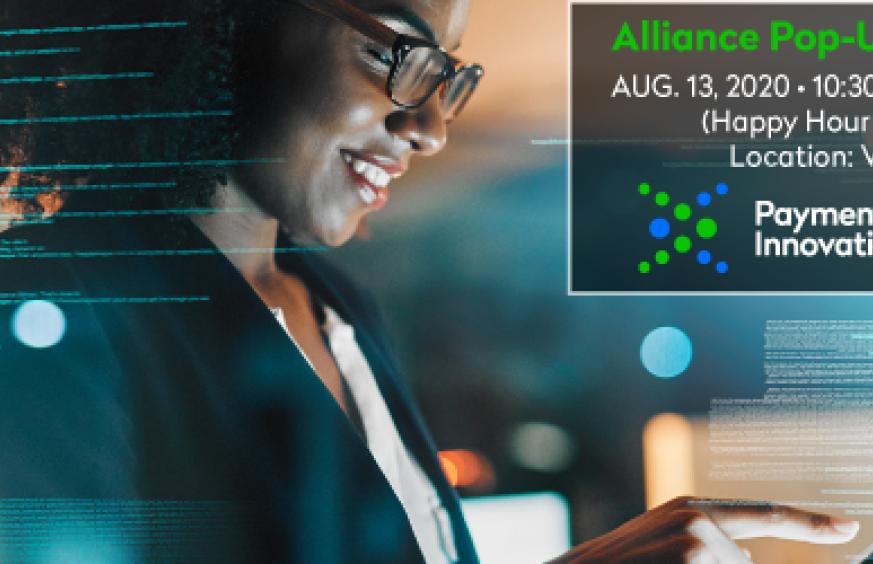 Discussing the effects of the COVID-19 pandemic on payments
The Payments Innovation Alliance successfully held its first-ever Pop-Up Meeting in August. And in keeping with the interesting times we are now living in, it was – of course – all virtual. More than185 payments industry movers and shakers representing 110 member organizations – including financial institutions, solution providers, and financial regulators – met online to discuss changing business conditions, the shifting payments landscape, and the new opportunities that lie ahead due to the COVID-19 pandemic.
The Virtual Pop-Up Meeting was an additional member benefit, given that the Alliance has not met as a whole since its in-person meeting in Las Vegas in February. COVID-19 has changed how we all perform day-to-day activities, and the payments industry – and Alliance meetings, in particular – have had to adjust as well.
The key topics discussed focused on how payments of all varieties (electronic, contactless, Same Day, real-time and more) have fared during the pandemic. The Pop-Up Meeting included six action-packed sessions that dissected what the "new normal" means for the payments industry, businesses and consumers.
This meeting summary will provide a quick digest of what was discussed in the sessions, an update on the Project Teams, and what's ahead for the Alliance.
Session Digest
Even During a Pandemic, the ACH Network Delivers
Representatives from The Clearing House, the Federal Reserve, and Nacha discussed how the ACH Network performed in the first half of the year - leading up to the pandemic and during the national emergency. Most importantly, the Network was called upon to deliver large-scale assistance to millions of America's consumers, businesses, governments and nonprofits. As part of the U.S. government's  disbursement of federal electronic impact payments, 120 million Direct Deposits were sent. "The state of the ACH Network is strong," said one panelist, adding that the Network "continues to evolve and we are all a part of making that happen."
Impacts on Payments Innovation During COVID-19 
We've seen the good with contactless payments becoming more common in a six-feet apart society. We've seen the bad with the ISO 20022 migration being postponed. This panel discussion shed light on how innovation can still emerge from the crisis faster, better and stronger. "Covid-19 is a terrible health crisis," said one panelist. "But as far as the digitization and electronification of payments, it has clearly been an accelerator to what we imagined for the future. I don't think we can go backwards now."
Advocacy in Action: Trade Association Collaboration During the Crisis
The COVID-19 crisis validated the importance of the relationships between trade association government relations teams and those of Treasury, the IRS, the Fed and EPN. This advocacy-in-action supported effective and expeditious delivery of Economic Impact stimulus payments and critical communications to keep industry stakeholders informed. "When all of the [industry organizations] can come together on one letter, that's really powerful," said one panelist.
Digital Payments: The Time of Need is Now
The COVID-19 pandemic has highlighted the need for digital-first technologies, especially in the payments space. A panel of experts discussed the latest trends, including contactless, real-time, and other electronic payments. One key takeaway from the session is that the U.S has lagged in adopting contactless payments in particular. Because it still may take some time to change consumer and business behaviors, it may become more common to see hybrid transactions, as opposed to purely contactless payments. "Let's make sure to keep the trends moving in the right direction with flexibility, adaptability and creativity," said one speaker.
Pandemic Impact: How it is Reshaping Payments in Retail and for the Un/Underbanked
Businesses have expanded their digital offerings, allowing consumers to increasingly rely on mobile and online channels to conduct day-to-day activities. However, not everyone has made the shift. While there has been an acceleration in the adoption of digital payments, barriers -- such as financial exclusion (lack account to make or receive digital payments) and digital exclusion (lack access to the internet at home) – still exist. "Customers aren't ready for digital in terms of payments," said one panelist. "There is a sort of inertia among customers, and we need to build digital platforms to help them."
Stress in the Workplace in the Era of COVID-19
The Alliance invited a board certified psychiatrist, to help attendees explore different ways in which stress may manifest on our bodies, on our mood, and on our behavior, as well as how to adopt useful coping tips. While tried and true methods for managing stress may be inadequate during a pandemic, Dr. Amy Stark provided three tips for mitigating stress: mindfulness, gratitude and behavioral activation.