February 10, 2023
Nacha Salutes AAP Professionals on National AAP Recognition Day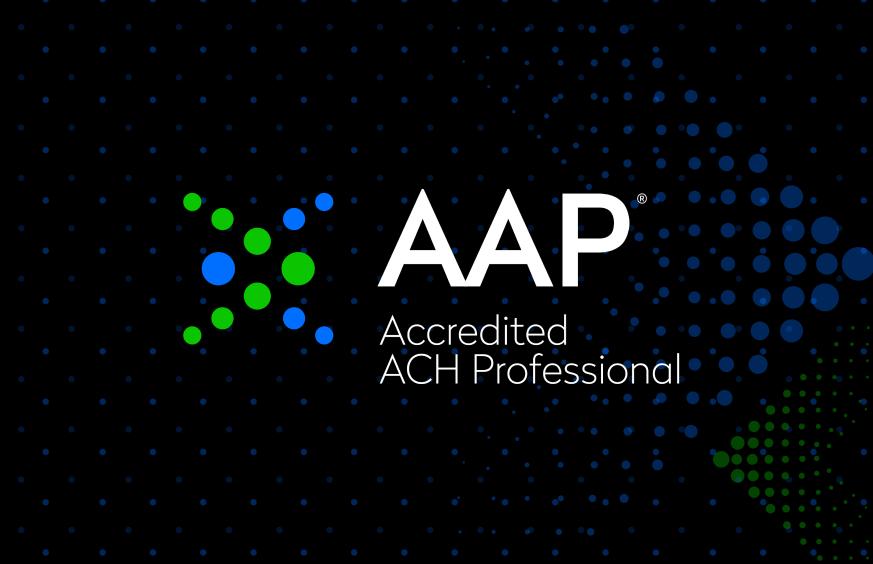 HERNDON, Va., Feb. 14, 2023 – Today, in support of National AAP Recognition Day, Nacha is pleased to spotlight the accomplishments of the 251 newly-minted AAPs who passed the 2022 exam and earned their credential.
They are now among the more than 4,700 payments professionals nationwide being honored for holding the AAP accreditation. The AAP program, now in its 30th year, sets the standard for excellence in payments.
"AAPs bring credibility and extensive knowledge to their organizations, helping them to navigate the ACH and the payments landscape, which is dynamic.," said Stephanie Prebish, AAP, APRP, CTP, Nacha Managing Director, Association Services. "I want to congratulate the payments professionals who recently passed the AAP exam and thank the thousands of AAPs across the country for their continued dedication to staying up to date on the latest industry rules and trends."
Given the extensive body of knowledge AAPs are required to know, candidates should plan to dedicate enough time to study to adequately prepare for the AAP exam. Candidates answer questions on a wide range of subjects, from the Nacha Operating Rules and the ACH Network to regulations in the payments industry and risk management.
National AAP Recognition Day is marked annually on the second Tuesday of February by Nacha and its member Payments Associations to highlight the importance of the AAP accreditation and celebrate the accomplishments of all AAPs. This year, an American flag will fly over the U.S. Capitol in Washington, D.C., to honor AAPs. The flag will be awarded to an AAP during the annual AAP reception, sponsored by the Center for Payments, at Smarter Faster Payments 2023, taking place in Las Vegas April 16-19, 2023.
Learn more about AAP accreditation by visiting https://www.nacha.org/accredited-ach-professional.
About Nacha
Nacha governs the thriving ACH Network, the payment system that drives safe, smart, and fast Direct Deposits and Direct Payments with the capability to reach all U.S. bank and credit union accounts. More than 29 billion ACH Network payments were made in 2021, valued at close to $73 trillion. Through problem-solving and consensus-building among diverse payment industry stakeholders, Nacha advances innovation and interoperability in the payments system. Nacha develops rules and standards, provides industry solutions, and delivers education, accreditation, and advisory services.